Switzerland is one of the most beautiful nations with a rich history of valour and bravery residing in Central Europe. Historical sites in Switzerland will let you know their long descent hardships and engaging gatherings but their iconic artwork inspired by their experiences and serene surroundings. Such beauty whispers a life in every stoned top monument in Switzerland. Therefore, you must explore at least once these famous historic sites that not only grab you with their breath-taking artistry but also stun everyone with the interesting stories of struggle and politics that went behind their construction. You can understand a country's disposition and about its people through their history therefore you must not skip site tours even if you find them boring sometimes. Well, that's why we are here! Here I have curated a list of top 13 monuments in Switzerland that will deeply tempt with their hardcore epic battles and conspiracies marking them as a must-visit entity on your Swiss trip.
List of Famous Switzerland Monuments
1. Augusta Raurica
If you want to see the major influence of Romans in Switzerland then you can visit this famous landmark in Switzerland. This venue worked in around 15 BC in the old Roman time frame in the Europe continent and it is situated in Giebenach Strasse, August in Switzerland. This is an archaeological gallery and one of the outstanding popular historical sites in Switzerland. This was founded by Lucius Munatius Plancus at the time when Julius Caesar met his untimely end so yes! Indirectly, this is the time after 'you too Brutus!' which you would love to explore. This historical site is pondered as a Roman archaeological site and an open-air museum in Switzerland. Whereas the intimidating view of the Rhine river over the southern bank gives it one of the best scenic panoramas for being the most photogenic monument in Switzerland. So don't forget to bring the best lenses for your cameras at this famous destination in Switzerland.
Address: Giebenacherstrasse, 4302 Augst, Switzerland
2. Avenches
Another incredible municipality embellishing the great heritage of the Roman empire in Switzerland. Avenches is an appealing antiquated roman site in Switzerland which was once the capital of the Helvetians and housed almost 20,000 people. You can explore the well-preserved amphitheatre, ruins of the old temple complex, Roman baths and a museum dedicated to all their appliances at this historic building. This is one of the best historic sites to visit in Switzerland if you are keenly interested in the establishment of colonies. It is situated in the Antiquated Rome time frame in the city of Avenches of Switzerland. 
Address: 1580 Avenches, Switzerland
Visit: Tourist Attractions in Switzerland
3. Batiment des Powers Motrices
This stone edifine is an old hydroelectric station with tremendous water tank appended to the Structure worked in the style of expressive arts and secured amidst Rhone. This Chronicled Spot arranged in Batiment des Powers Motrices, Spot des Volontaires, 1204, Geneva in Switzerland.
Also Read: Discover Famous Monuments and Statues in New York
4. Benedictine Community St. John Mustair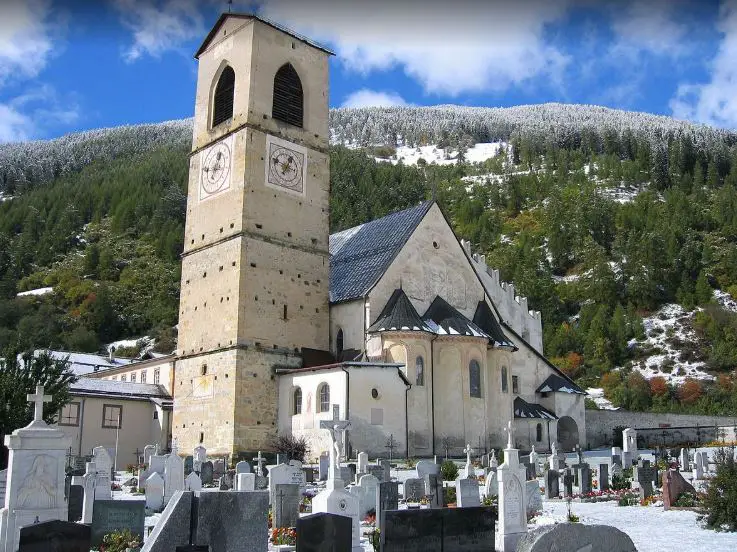 For all the history geeks this would be their favourite place to visit by far. This is an ancient Benedictine monastery in the Swiss municipality of Val Müstair, at the Canton of Graubünden. As this community place was established in the eighth century and now it is a museum. Visitors are allowed to investigate inside this structure. This religious community arranged in Mustair of Switzerland along with their beautiful paintings, and architecture is one of the best experiences you can have at any historic site at all. This structure remains inside a delightful scene and is a popular monument in Switzerland to visit.
Address: 7537 Val Müstair, Switzerland
5. Bex Salt Mines
For a real-time experience of struggles and fascination of old classic Swiss history, you can explore this top historic site in Switzerland. The Bex Salt Mines is basically the salt mining industry which worked since the 17th century and inherited the time of Early Present day (1500AD-1800AD). Bex Salt Mine is the verifiable fascination around the local area of Bex that completely carves out a mysterious labyrinth that you can explore under professional guides. The Salt Mine is situated in the Course des Mines de Sel, CP 277 1880, Bex, Switzerland. These caves hold much more than a salt mining site experience, therefore, you must visit this historic site if you are exploring the history of Switzerland
Address: Route des Mines de Sel 55, 1880 Bex, Switzerland
Read More: Things to do in Switzerland
6. Castle of Chenaux
This castle is no less than a fairytale castle with all those red peaked roofs covered with brick-red stones and long white towers. Such a stronghold arranged in the little medieval town of Estavayer and established in the fourteenth century gives this monument in Switzerland more of a classic vintage touch which makes you more interested in its tour. The town Estavayer is an observer to long history including this château. For an insight to the religious dynamics in the ancient times of Switzerland this is one of the recorded and delightful castles in Switzerland to explore. You can spend time while admiring the castle with an amazing scenic show of mountains and luscious green fields all around it.
Address: Chemin du Donjon 1, 1470 Estavayer-le-Lac, Switzerland
7. Chateau de Prangins
For a complete family tour, this is one of the best monuments to visit in Switzerland. This is the National Chronicled Landmark and is situated above Lake Geneva. It is renovated over the times into a historical centre to sustain the foreign guests therefore, they have covered Parks, gun, divider clock everything that can attract more new explorers to take interest in their untouchable beauty. This famous building of Switzerland is situated in the Musee national Suisse of Prangins in Switzerland. The original building on the site was destroyed in 1293 by the Dukes of Savoy but later it was rebuilt and changed repeatedly over the coming centuries to mimic its original form. You can still mark out the subtle differences in its renovated zones as some of the older ones are still in construction and you are not allowed to enter those areas.
Address: Avenue Général Guiguer 3, 1197 Prangins, Switzerland
Read also: Things to do in Switzerland in Winter
8. Grossmunster
For all the tours in Zurich, if you miss this site, you must ask for your money back from your tour guide(oh! common I am kidding!). Yes, most probably you can't miss this extremely famous monument in Switzerland that is a well known medieval church in Zurich with a history where the Protestant Reformation in Switzerland actually began. Protestant created a big change in the religion journey of Swiss people and most likely, it is said that a Frankish lord developed the first exemplification of Grossmunster on the site where he discovered shapes of the city's supporters, Felix and Regula. To get the idea of times when the real division of protestants and other believers of Christianity happened in Switzerland during the late 90s you can definitely consider this famous historic site on top of the list.
Address: Grossmünsterplatz, 8001 Zürich, Switzerland
9. National Museum Zurich
Another important historic site to visit Switzerland is The National Historical centre in Zurich that shows millions of introductions identifying with Swiss history and culture in a brief show. This Gallery situated in Landesmuseum Zurich, Museumstrasse 2, 8021 Zurich in Switzerland is one of the best accounts of history captured into pictures. From antiquated ancient rarities to the gothic ensemble and propelled furniture, the National Museum Zurich covers the whole new scope of portrayed articles and periods, from the ancient to the current day of Swiss history. Even though from the prior time's Swiss people have always shown the idea of peace even during the world wars still their valour is not forgotten which can be easily studied through their representation of history at such museums.
Address: Museumstrasse 2, 8001 Zürich, Switzerland
10. Palais des Nations
This is kind of the 'granny of UN' from where the whole idea of the United Nations took its first breath. It even worked in 1930 as home to the Group of Countries. Presently at a separation of approximately 600 meters, the stupendous Palais des Countries is the place one finds different significant components of the UN. Even a lot of substantial conferences are conducted at this conceding Office of the High Chief on Human Rights and Human Rights Chamber.
Address: 1211 Geneva, Switzerland
11. Monte San Giorgio
Besides the beautiful Alps in Switzerland, this is one of the most intriguing places you can visit in Switzerland remarking the interesting visage of Swiss mountains rather than just their scenic beauty. Therefore, this famous historical site in Switzerland which is also known as 'Fossil Mountain', due to its special well-preserved fossils that date back 230 million years to the Triassic period. You will be thrilled to explore this site especially if some of your partners or family members are fans of the Jurassic World and the hierarchy of evolution on Earth. This place is located in the canton of Ticino. Along with that for a closer inspection, you can visit the nearby fantastic museum in the village of Meride, to engage your imaginations with a plethora of creatures and think of them roaming the beautiful landscapes in the Triassic world just like Dinosaurs.
Address: 6866 Brusino Arsizio, Switzerland
12. St. Peter's Cathedral
This is one of the most visited historic sites in Switzerland that owns thousands of travellers every year. The cathedral has an illustrious heritage of being an 850-year-old monument that is still standing firm with all its valour and beauty. This is the place where the famous parish John Calvin chose to preach. During his life in Geneva, Calvin led a reform of both the city and its church establishment. He preached over 2,000 times within its walls making it already one of the most special places for all the Christian believers who are his fan. Today, his favoured seat still sits within the cathedral that you can experience on your own.
Address: Place du Bourg-de-Four 24, 1204 Genève, Switzerland
13. Anna Göldi Museum Glarus
For exploring one of the most orthodox and a bit creepy places you can visit this top historic site in Switzerland which accounts that back in old-time people were really mad when it comes to superstition. Yes, such hysteria caused some to sacrifice their lives even. Glarus is one of those sacrificing grounds where Anna Göldi, the last woman who was executed for witchcraft, met her end. Göldi was accused of witchcraft by her employer and confessed after torture. A new museum has also recently opened near Glarus dedicated to Göldi's story and all that she went through. Soft hearts, I prefer you don't visit if you feel uncomfortable around death grounds.
Address: Fabrikstrasse 9, 8755 Ennenda, Switzerland
14. The Lion of Lucerne
One of the bravest and bold historic monuments in Switzerland that speak of such national anguish that no one could express. This is a sculpted place where a lion is carved out with great artistic skill in a large stone amidst a whole isolated forested area. The Lion of Lucerne lies sprawled over spear and shield in its death throes displaying the memory of the death of hundreds of Swiss soldiers that were killed during the French Revolution in 1792 and you can barely take your eyes away from this stone carving which feels so profound amidst a green surrounding and a mountain that represents such brave emotions with only one sculpture.
Address: Denkmalstrasse 4, 6002 Luzern, Switzerland
Don't Miss:
So far we have discussed the top 13 historical sites and monuments in Switzerland, which contains the proper information regarding all the most famous monuments in Switzerland you must not miss in your site tours. Hope you enjoyed reading this article and if you love to know more about Switzerland then kindly head to the other interesting articles. Do tell us in the comment section below what more you would like us to write about or do you have any special plans to explore the world Adequate travel will love to assist you in any manner.
The post Discover Famous Monuments and Historical Sites in Switzerland appeared first on World Tour & Travel Guide, Get Travel Tips, Information, Discover Travel Destination | Adequate Travel.