Paella is probably Spain's most famous cuisine. It is basically a traditional Spanish rice dish, often made with chicken or seafood, can be found everywhere in Spain and almost every restaurant has paella on the menu, but the best place to eat it has to be where it was first invented, in Valencia. Don't worry if you can't get there though, because today we're looking at the best paellas in Barcelona, Valencia, Madrid, Seville, and Palma de Mallorca. Before we take you to the ride of Paella and your curiosity of where to eat paella in Spain, you must know something cool about this dish: 
What is Paella?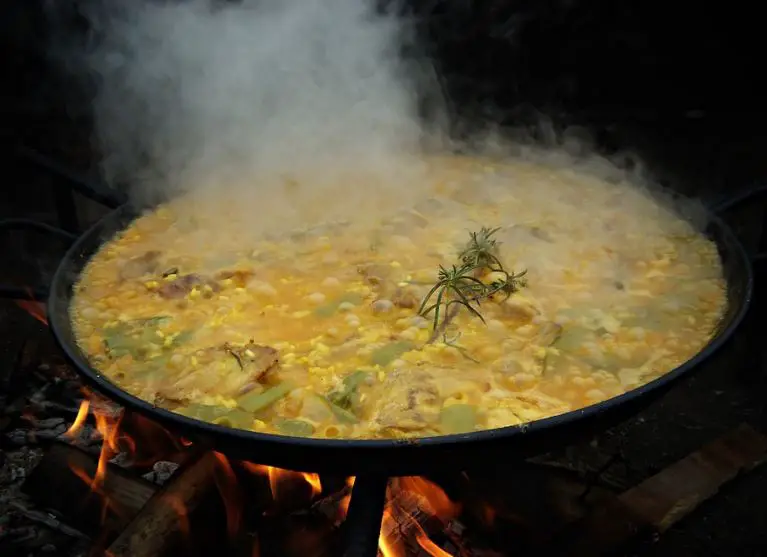 The best definition of a Spanish paella is kind of boiled rice with saffron and other ingredients. The most common paella recipes include seafood like mussels, prawns, and calamari, although some, such as the typical paella Valenciana, also contain chicken or rabbit. You can even get vegetarian paellas with carrots, peas, courgette and any other veggies you can think of.




Types of Paella
There are different types of Paella. Rabbit and Seafood Paella is a traditional Paella. 
Rabbit Paella

Seafood Paella

Black rice Paella

Meat Paella

Vegetarian Paella
Best Paella Restaurants in Spain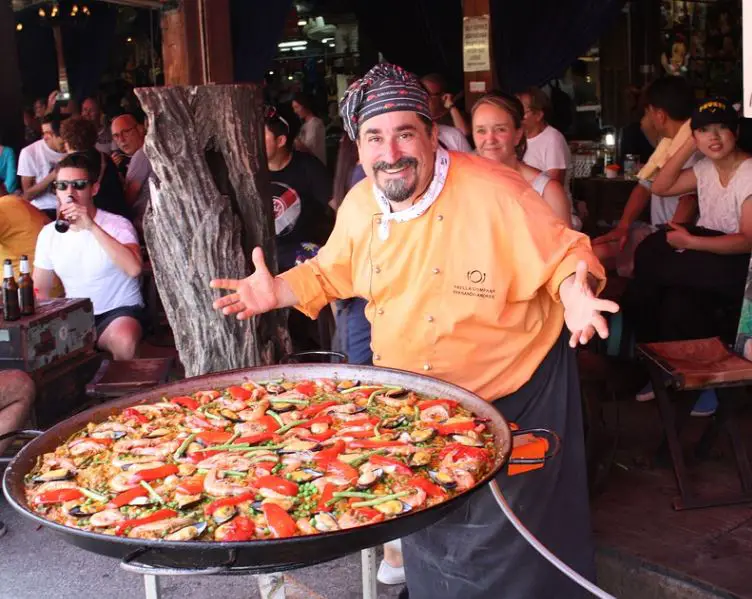 Spanish people have dinner starting from 9 p.m. and going until as late as midnight. This may be very late for you, but no worries, most restaurants open around 6-7 p.m. When you pick one of our recommended Paella spots in Spain, we recommend making a reservation. Just to be safe (and to avoid disappointments and skip waiting in line). The price for paella is usually shown per person. The minimum for a good paella is two people.
Read more: Places for Nightlife in Spain
1. Casa Elías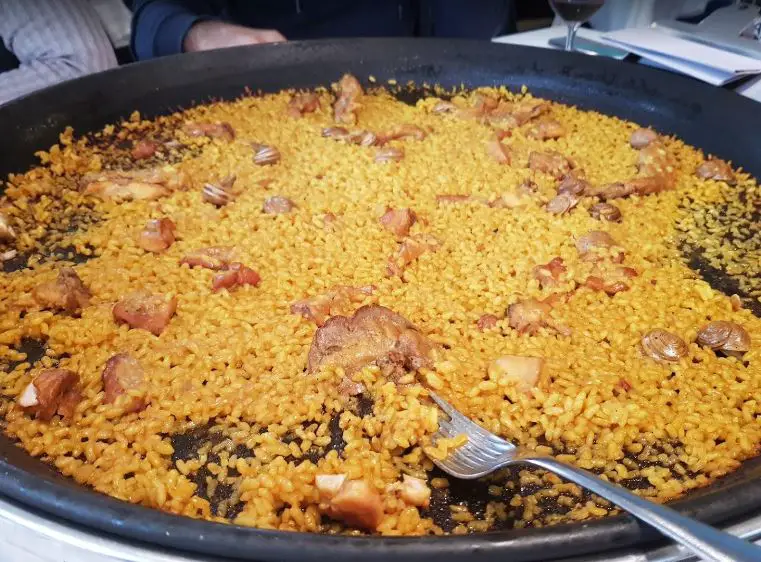 Gastronomic experts and culinary guides define this paella as the best paella in Spain. Rice with rabbit and snails, herbs, and slowly cooked on firewood. Upon your arrival at the restaurant, you will know that the choice is unbeatable. The first thing you see when you arrive is a large window that welcomes you with the burning firewood ready for your paella.
Address: Calle Rosales, 7, 03649 El Xinorlet, Alicante, Spain
2. Restaurante la Sirena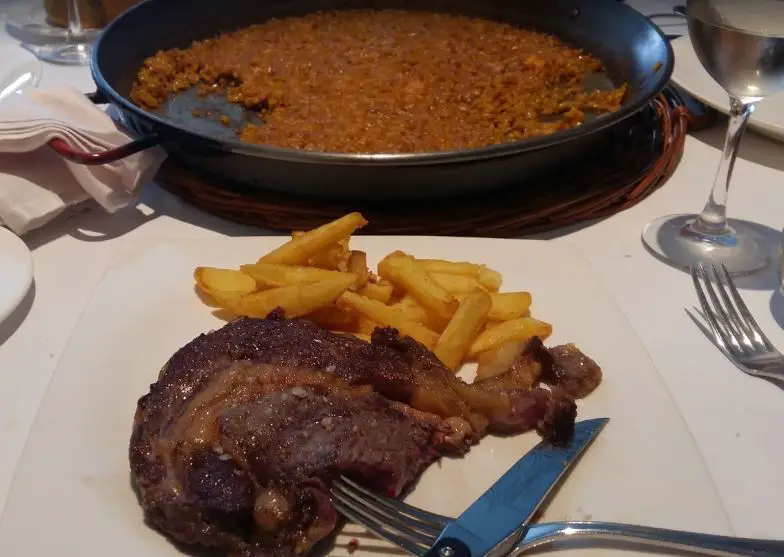 We continue in Alicante where only rice is called paella Spanish food just due to a kind of healthy competition with its Valencian neighbors. Here, we decide to taste the Arroz a banda (rice cooked in fish stock) with prawns which always comes with a delicious garlic mayonnaise sauce and cooked with ñoras which is a type of dried pepper which is the main ingredient of a secret sauce and the best rice from Alicante is used.
Address: Av. de Madrid, 14, 03610 Petrer, Alicante, Spain
3. Quique Dacosta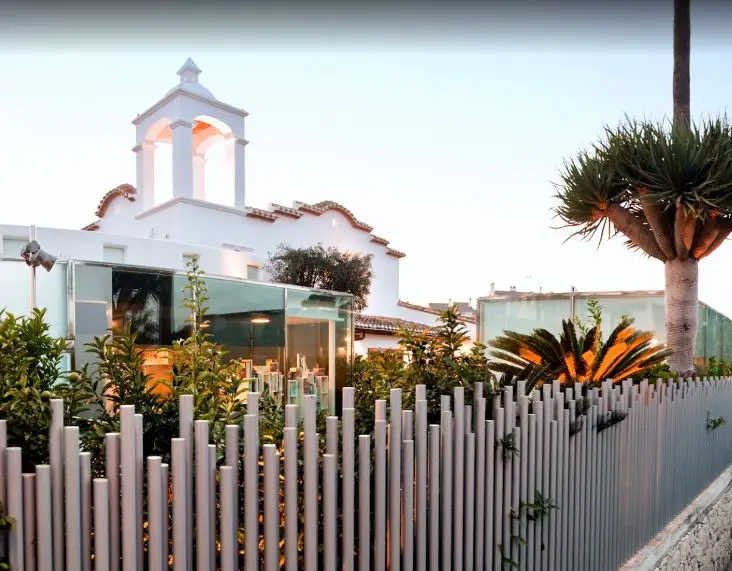 This chef has already been mentioned as the genius of rice and Mediterranean cuisine as well as his 3 Michelin stars restaurant in our top 10 paella restaurants in Spain. His art in the kitchen has majestically moved to rice: The grain is firm and crispy, does not stick together but it is integrated into the dish, cooked with an exquisite technique; this certainly is a different concept from what is found outside our country.
Address: Carrer Rascassa, 1, 03700 Dénia, Alicante, Spain.
Read More: Scariest Places in Spain to Visit
4. La Cuina Mediterranea de Galbis
Valencian people should not be angry as we have started in Alicante as they are the experts of the authentic best paella in Spain. Juan Carlos Galbis will surprise you with a recipe where waterfowls and Valencian vegetable gardens are the most important elements and in a gastronomic place where the chef cooks for his friends and there is a close, friendly, tasty and authentic atmosphere. His father is well-known for cooking the biggest paella in history.
Address: Carrer de Santa Bàrbara, 37, 46250 L'Alcúdia, Valencia, Spain
5. Casa Carmina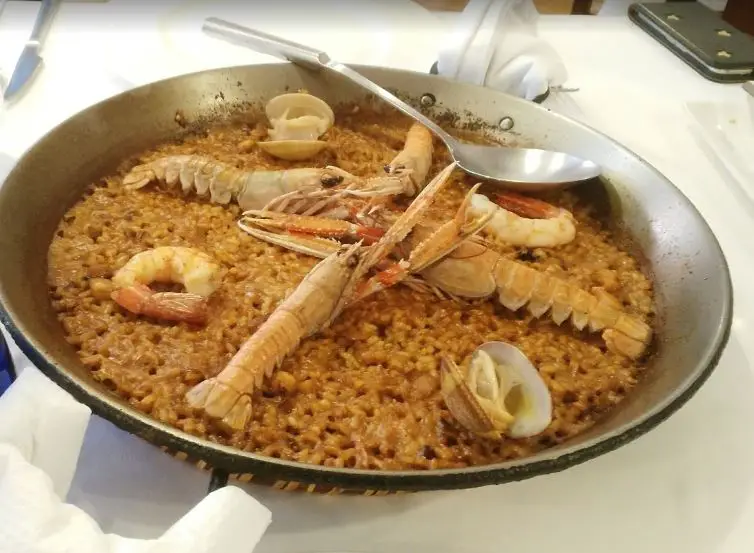 We continue in Valencia because there are hundreds of places that can be part of this top 10 paella spots. Between the sea and the Valencian Albufera, this small place offers one of the most exquisite Valencian paellas. Stew rice with beans and turnips, paella with lobster, with cuttlefish and artichokes, with seafood, with monkfish and mushrooms: Tough choice.
Address: Calle Embarcadero, 4, 46012 El Saler, Valencia, Spain




6. Posada Real Santa María del Campo Rus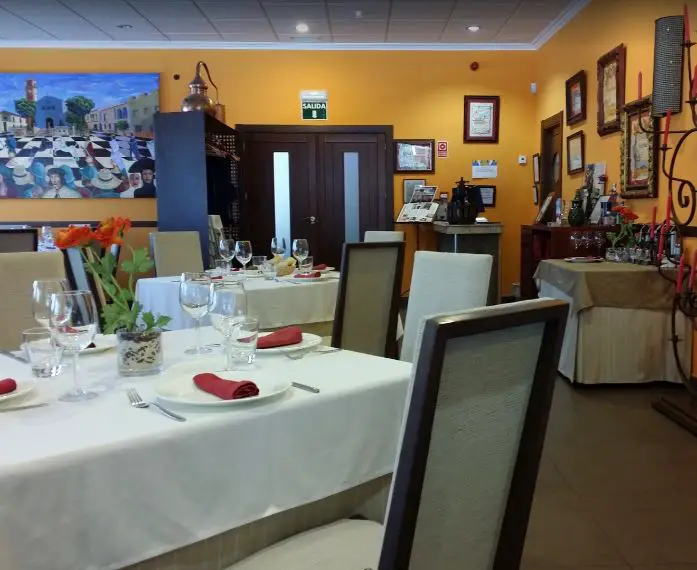 It must be said that the best Valencian paella is found in Castilla La Mancha, especially in Cuenca, in this restaurant which is run by the chef Julián García and it was decided in the last contest "The World's Best  Paella" held in Sueca, Rice City in Spain. Arroz bomba (short-grain rice), chopped chicken and rabbit, garrafo, green beans, and crushed tomatoes, snails, saffron, rosemary, paprika, coloring, chicken stock, olive oil, and salt. The most traditional ingredients of the Valencian paella are the main elements of this Castilian paella.
Address: Av. Dr. Espejel, 5, 16621 Santa María del Campo Rus, Cuenca, Spain
Read More: Famous Churches in Spain
7. Que si Quieres Arroz Catalina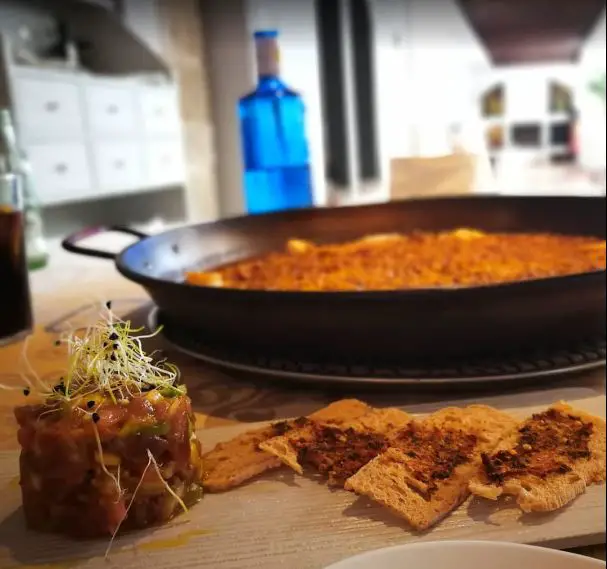 Located in the heart of Casa de Campo in Madrid, you will find one of the best rice restaurants in the capital. Madrid is the best city for paella in Spain. The chef is Rafa Morales with 14 years of experience working with Ferrá Adriá and with 2 Michelin stars at El Bulli Hotel in Seville. Now he is dedicated to cooking the most delicious paellas you will find in Madrid, which is stewed in duck stock and accompanied by rabbit, artichokes or snails.
Address: Palacio de la Mision, Calle Principal de Provincias, 9, 28011 Madrid, Spain




8. Glass Mar, Madrid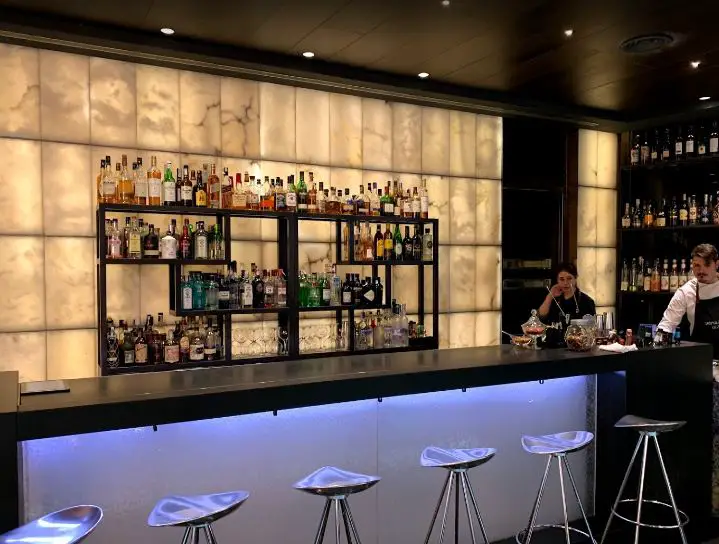 There are those who say that landlocked Madrid gets the best seafood in all of Spain because it's rushed straight to the capital in freight trucks as soon as the day's catch comes in. It is one of the paella restaurants in Spain. Chef Ángel León has been using these fresh ingredients to innovate in the world of haute cuisine paella in Madrid in his restaurant Glass Mar near the Puerta del Sol. Here you can try unique paella dishes from sticky rice with plankton to an Arroz with cuttlefish broth or garlic sauce. Truly groundbreaking.
Address: Carrera de S. Jerónimo, 34, 28014 Madrid, Spain
Read More: Top 10 Cruise in Spain
9. L'Albufera, Seville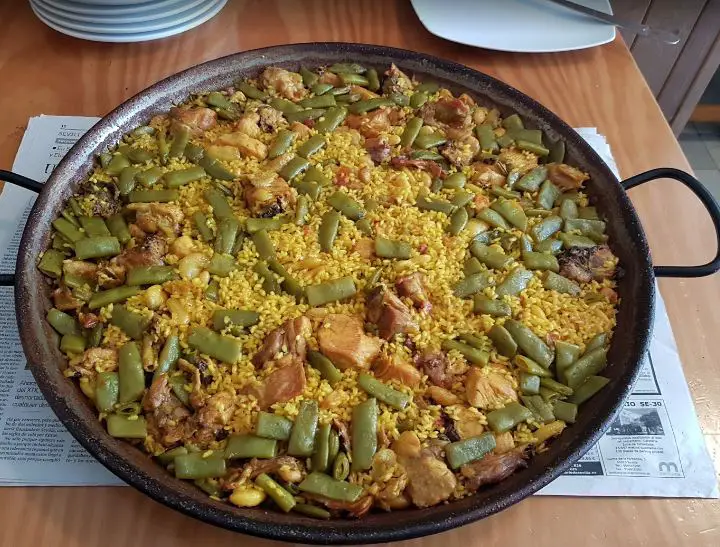 If you want to eat like a local in Seville, head to this restaurant in the far south of the city you will get the best paella of Spain. It's a bit of a long journey from the city center but well worth it for the more than 20 different types of paella and Valencian-style arroces with every ingredient you can imagine. You can choose whether you want a portion for two, four or six people and the price is very reasonable too.
Address: Calle Corbeta, 5, B, 41012 Seville, Spain.
Experience: Best Hiking In Spain
10. La Payesita, Palma de Mallorca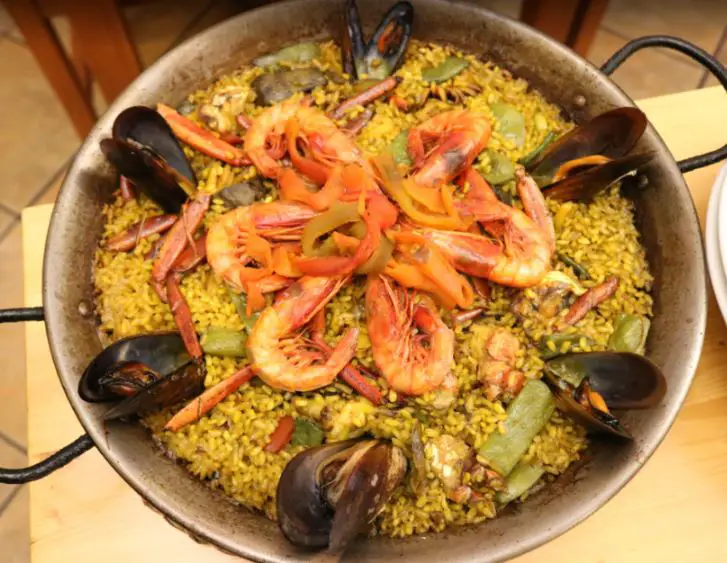 Finally, if you're looking for a restaurant right on the beachfront in Mallorca's capital city, you should definitely check out La Payesita, one of the best paella restaurants in Spain and possibly one of the great restaurants on the island of Mallorca. It's nothing fancy – just good old, honest food and excellent service in a truly marvelous setting.
Address: Carrer de les Nanses, s/n, 07610 Can Pastilla, Balearic Islands, Spain. 
Related Post: 




Spanish paella is explained here clearly as you can see this, we have been also discussed the best part regarding the best paella restaurants in Spain. I hope you might have loved reading this article so kindly share your views in the comment section as per the content and if you are interested to discover more about Spain then kindly concerned with other articles as well. 
The post Best Paella in Spain I Top 10 Paella Restaurants in Spain appeared first on World Tour & Travel Guide, Get Travel Tips, Information, Discover Travel Destination | Adequate Travel.