A honeymoon destination in Bali is an adventure choice kind of journey, meaning there is something for all kinds of honeymoons. If you're still deciding where to go on your honeymoon, I'm here to tell you to stop your search here. When it comes to luxury honeymoon destinations, Bali is quickly added to most lists and it's easy to see why! BEAUTIFUL, exotic, relaxing, fun, and adventurous at the same time – everything you could wish for on a honeymoon. You can live like a king and queen for a week in Bali, for a fraction of the price you would spend in Europe or Bora Bora. So read below for one of the top honeymoon destinations in Bali:
List of Honeymoon Places in Bali: 




1. Git Git Waterfalls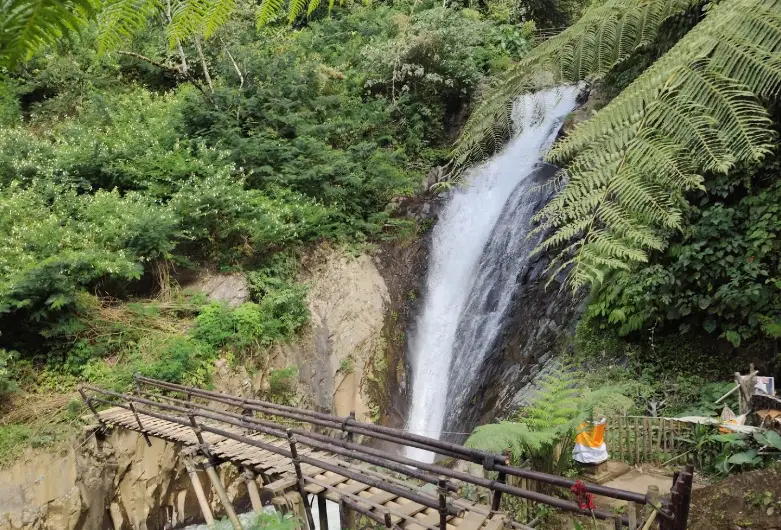 If you and your better half want to escape the crowd and give a glimpse into Balinese life, stop in the quiet colonial village of Lovina. Rejuvenate at the nearby Banjar Hot Springs and dive into the rainforest to explore the magical Git Git Falls. Check out the weavers working with magic and making beautiful Ikat and Silk pieces. If you are looking for a romantic honeymoon destination to visit in Bali, Indonesia, this is definitely your choice!
Romantic Things To Do:
Take a cool shower under the waterfall.

Spot dolphins at Lovina Beach.
2. Seminyak
Searching for a place where you can enjoy your privacy but still feel like you're part of the crowd? Seminyak is the place to be. A slightly calmer, finer version of busier Kuta, Seminyak is home to a choice of nightclubs, shopping malls, restaurants and cafes, and luxury resorts. Although Seminyak Beach is sometimes popular with tourists, there are many water sports to try together. Canggu, a peaceful seaside village with black sand beaches, just minutes from Seminyak you can also spend quality time here with your better half.
Romantic Things To Do:
Stay in a luxurious villa in one of Seminyak's many resorts
Spend a night in your personal cabana at the Potato Head Beach Club
Enjoy the sunset in the isolated Tanah Lot Temple
Ride as the sun goes down on Canggu Beach
Discover: What Denpasar Bali is Known for
3. Menjangan Island 
If you're looking for a secluded place where you can spend intimate moments with your loved one, where no one will bother you, Menjangan Island is the right place for new married couples. It is part of West Bali National Park, so you will see plenty of flora and fauna. There are many shrines on the island that you can visit in your free time at this best honeymoon destination in Bali.
Romantic Things To Do:
4. Ubud
A little culture and art and plenty of beauty – Ubud is located in central Bali, where it is separated from the beaches but amidst lush rice fields, hills, picturesque waterfalls, and sacred temples. This perfect honeymoon destination in Bali is a perfect contrast to the sunny, salty places on the coast and gets to the epicenter of local culture and crafts. The city of Ubud is small but lively and well worth a visit. Most luxury resorts are separated from the hubbub, so you can guarantee this much-needed privacy in a lavish setting.
Romantic Things To Do:
Go and take an art class together.

Get a blessing as a couple at the Tirtha Empul Temple.

Explore the caves of Goa Gaja.

Go hiking on Mount Batur.

Enjoy freshwater splashes at Tegenungan Falls.
Read More: Beautiful and Famous Lakes in Indonesia
5. Ulun Danu Temple 
The Ulun Danu Temple is one of the best places for a honeymoon in Bali which is also known as Ulun Danu Beratan, a must-visit for every new married couple. While a trip to Bali is not complete without visiting the many temples, so Bali has been recognized as an island of temples, this is of considerable importance to the locals. With a stunning view of the church on the edge of Lake Beratan, you should definitely not miss it!
Romantic Things To Do:
Enjoy boating.

While exploring the temple and nearby places spend your day.

Click some insta-worthy shots.
Get: Most Visited Monuments in Malaysia
6. Uluwatu
Uluwatu's sunset and cliff views are amazing. Located in southern Bali, Uluwatu is characterized by romantic pepper. A popular destination for weddings too, it is one of the most luxurious resorts on the island, with secluded beaches and sunsets offering magnificent views that you will never forget.As Uluwatu is a bit far from the central tourist areas, privacy is given here. However, there are many great restaurants in the area, so you don't have to venture too far from the resort.
Romantic Things To Do:
Catch the sunset at Uluwatu Temple.

Do surfing or relax on the beaches of Padang Padang, Balangan and Suluban.




7. Jatiluwih Bali
It is easily one of the most romantic places to go on a honeymoon in Bali. This place is quite picturesque and you can spend memorable moments with your better half. Covered with lush green rice fields, you get Instagram images at this location. Due to its beauty, the green land of Jatiluwih has even been registered as one of the UNESCO World Heritage Sites.
Romantic Things To Do:
You can Visit Pupuan village and Subak – water management which is a historic site cooperative famous since the 9th century.
8. Nusa Dua
Long, sandy, golden sands and crystal clear waters mark the shoreline of Nusa Dua, not to mention lavish coastal hotels and resorts. It is a destination that is detached from the crowd and perfects if the tranquility of Bali is what you are looking for. The beaches are clean, there aren't many people and there are great honeymoon resorts in and around the area. Accommodations are usually secluded, making them a very popular destination for honeymooners in Bali.
Romantic Things To Do:
Try water sports at Tanjung Benoa.

Snorkel on Nusa Dua Beach.

Swim on Geger Beach and visit Geger Church.

Discover the paradise that is Pandawa Beach.

Dine-in in a cave in a romantic setting on Samabe Beach.
Read About: Beaches to Visit in Kuala Lumpur
9. Jimbaran
The slow and easy Jimbaran Bay allows you to enjoy the beauty of Bali. You can work for your own class in this small fishing village, home to some of the best beaches on the island. Jimbaran's coastline is furrowed by natural limestone cliffs that rise above the beaches. You can relax on the beach while the sun goes down and you have a nice meal ahead of you.
Romantic Things To Do:
Watch the aerial view of the beach from the Rock Bar or the unique bar at Ayana Resort & Spa.

Enjoy fresh seafood at the restaurants along Jimbaran Beach.

Take a surf on Bingin or Dreamland Beach.




10. Nusa Islands
A 30-minute ferry from the mainland of Bali, the trio of Nusa Islands – Nusa Lembongan (the most popular), Penida (the largest), and Ceningan (for adventure lovers) will take you away from the hustle and bustle and provide an exclusive island experience. The three small islands have many interesting sights and plenty of activities for those looking for excitement. Because they can only be reached by land from boats, these islands see fewer tourists and so can leave for a few hours. From Sanur Harbor, you can take a ferry to Nusa Lembongan and another ferry to Nusa Penida and cross the yellow bridge to Nusa Ceningan.
Read more:  popular wedding venue in Stellenbosch
Romantic Things To Do:
Nusa Lembongan.

Explore the magical Devil's Tears.

Join the surfers riding the waves and feel the flame of the sunset on Jungut Batu beach.

Nusa Penida.

Climb through the cracks to get to Pura Goa Giri Putri Cave.

Cross a blue staircase to get to Peguyangan Falls.

Nusa Ceningan.

Get an adrenaline rush from jumping off Mahana Point Rock.

Protect your eyes from the cheerful blue of the Blue Lagoon in Nusa Ceningan.
11. Sanur
Sanur is moving more slowly between Seminyak and Kuta. There are resorts, shops, restaurants, bars, and beaches – all worth exploring on your honeymoon. Its tranquil seaside atmosphere attracts tourists and adventure sports lovers, yet it is one of the famous honeymoon destinations in Bali.
Romantic Things To Do:
While the rest of Bali has beautiful sunsets, you can get a great sunrise in Sanur.

Swim or try water sports at Sanur Beach.
Read more: Foods to Try in Denpasar Bali
12. Gili Islands
One of Bali's waterproof gems, the Gili Islands is the epitome of what Bali looked like a few decades ago. Gili Trawangan, Gili Air, and Gili Meno make up this archipelago, Gili Trawangan is the largest and most touristy. The islands are located beyond the Nusa Islands, along the coast of Bali, Lali's closest neighbor.The islands are famous for their colorful marine life, clear waters, and clean beaches, as well as many coastal hubs that provide lively entertainment for visitors throughout the night. Diving and snorkeling are popular activities in Gili Trawangan, but you can also visit the bars and restaurants if you just want to relax.
Romantic Things To Do:
Go diving at Shark Point or Manta Point.

Party into the morning at a beach club.

Spot sea turtles while snorkeling.

Gili Trawangan and Gili Meno accept and release a sea turtle at sea. at one of the sea turtle sanctuaries.

Go cycling along the coastline.
So far we have discussed romantic honeymoon destinations in Bali, which contains the proper information regarding all the top 10 best romantic honeymoon places in Bali. I hope you will love reading this content and if you love to know more romantic sites in Bali then kindly read our other articles as well which will help you to get some information about Bali.
The post Best Honeymoon Destinations in Bali for 2021 | Romantic Honeymoon Places in Bali, Indonesia appeared first on World Tour & Travel Guide, Get Travel Tips, Information, Discover Travel Destination | Adequate Travel.