There are a lot of things to explore in Denpasar, but with an empty stomach, nothing feels good for sure, unless you are fasting for some revolt! Just saying Denpasar, Bali is a tranquil and serene place. I don't think you have to meddle up in any fasting revolution there. So for trying the popular foods in Denpasar, Bali just hops on this amazing guide which will reveal the best flavor palette of Indonesian cuisine. Along with that, there are tonnes of street foods to eat in Denpasar that you won't find anywhere in Bali's main tourist zones. As they are served over specific streets plus you must at least be aware of what are the main ingredients of the food because Indonesians eat a lot of things that you might find gross or slightly uncomfortable like frogs. So hang on and find out what human consumer you are?
List of Top Foods in Denpasar
1. Babi Guling(Indonesian roast pork)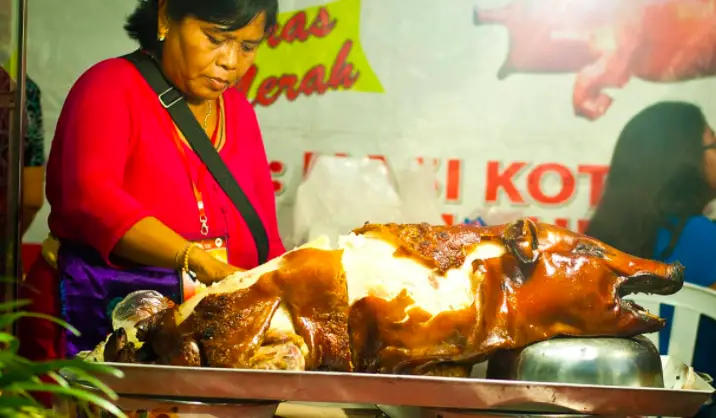 There are some delicious things to explore in Denpasar that are mostly meat-based dishes. So there is a lot of protein to slip down the throat(a big sigh for vegetarians!). This is one of the famous foods in Denpasar that is made by roasting the whole pigs over smoldering coconut husks. Then a skilled guy scrapes some crackling slices from finished pork with a ferocious blade. Babi Guling is usually a morning treat that just becomes a melt-in-your-mouth experience from the crispy layers of the bronzed skin atop a delicate slick of soft white fat.
2. Bika Ambon
Definitely not following the norms(just have to do it!).This is an incredible dessert in Bali that is made from ingredients such as tapioca flour, eggs, sugar, yeast, and coconut milk. It is almost similar to Malay sponge cake filled with liquid palm sugar and topped with grated coconut. You can have this amazing food to eat in Denpasar even at the streets which are generally sold in pandan flavors, but it is also available in other flavors like banana, durian, cheese, or chocolate which you can find in famous sweet shops of Denpasar.
3. Lawar salad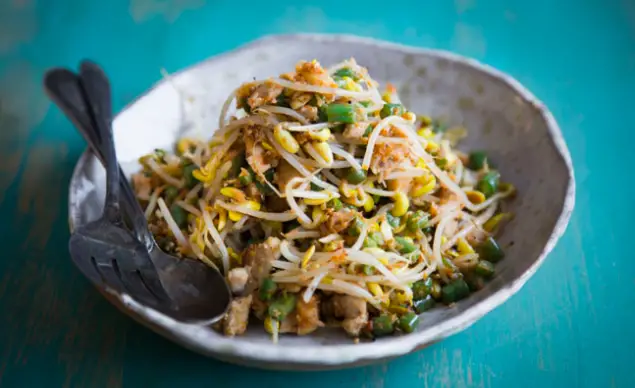 A big shout out to all the vegetarians if you are thinking this is finally your jam to play, so sorry but it's not! Yes, even the salads in Denpasar are not completely veg. This is among the most popular food to try in Denpasar in which finely shredded seaweed is added with rujak, which is a tangy fruit salad prepared with under-ripe fruit, chilli, tamarind, palm sugar, and shrimp paste. It's definitely a jam for Pregnant ladies there. You can enjoy this Balinese fruit salad with sweet and sour notes of sliced papaya, palm sugar, tamarind, shrimp paste, and chili that is served cold. It's a refreshing dish to have in the humid summers of Denpasar.
Discover: What Denpasar Bali is Known for
4. Daluman Drink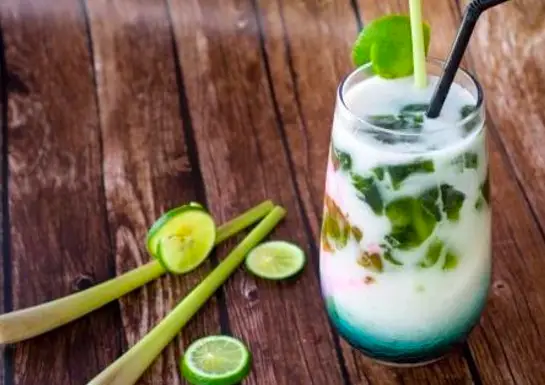 This is not among the incredible foods of Denpasar, Bali but it's made from a grass jelly which is turned into a very refreshing drink that has coconut milk, tapioca pearls, palm sugar, and grass jelly, hitting every spot to calm your body heat. You can have it chilled or normal and its natural ingredients act organically as a cooling factor. Therefore, try this drink for sure, to escape the humid heat of Denpasar.
5. Nasi Campur
Genuinely telling you I say it's the consumer's dish you can add whatever you like in this dish. As the dish starts from two different kinds of pork satay, shredded chicken, spiced pork stew, prawns and veggies, and then leans a little towards the sweet palate adding some sweet ingredients, more leafy veggies and so on. So basically this top food in Denpasar is a rice dish with various side dishes.
Read More: When Bali is Reopening for Tourist
6. Tipat or Ketupat Tahu 
In Indonesian cuisine, Tip-at means rice cake and Tahu means firm tofu. So this dish can never go wrong as they have the most balanced ingredients which you have eaten tasteless as well(don't tell me you haven't tried the raw tofu before cooking it!). Both of these ingredients are mixed with fresh vegetable, fried Tempe and spicy grounded peanut dressings. This is one of the best foods in Denpasar that ends only when you get sprinkled fried shallot on top of the dish. That's when you start the real meal.
Visit: Famous Monuments of Denpasar




7. Satay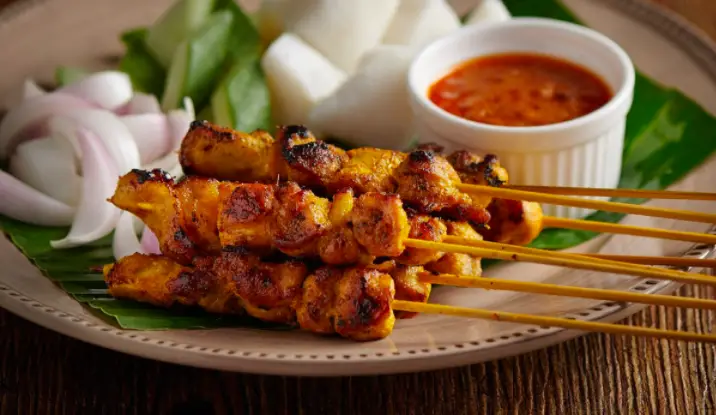 This is one of the top street foods in Denpasar and many other Indonesian countries. But these are some of those foods which you can't get enough of, just like peanuts it's never enough in the bowl. So every time you are offered Satay just take it. This is a Southeast Asian dish of seasoned, and grilled meat, served with sauce. Usually, in Denpasar people prefer pork but you can find your choice of meat as well. Do try them from the Sate Plecing or Sate sum-sums.
8. Laklak 
A sweet ending needs a sweet dessert. This is a typical Indonesian dessert that is served with the classic Indonesian combo of grated coconut and gloopy palm sugar in Denpasar. You can also take these back at home with you, as some of the famous food from Denpasar.
Get: Most Visited Monuments in Malaysia




I hope you enjoyed this food tour of Denpasar where you can explore the main ingredients and your preference regarding different tastes you are going to be offered from Denpasar's palette. So take a leap of faith and try all of the above-mentioned foods of Denpasar, Bali that can be a very good experience you can take away from the entire Bali. Don't forget to give your precious views in our comment section below about this blog and keep following our website for more interesting travel content.
The post Foods to Try in Denpasar Bali | Best Foods of Denpasar appeared first on World Tour & Travel Guide, Get Travel Tips, Information, Discover Travel Destination | Adequate Travel.