Synopsis: According to the latest data procured from the Health Ministry, India recorded 185 new cases of coronavirus infections, with the active number of cases declining to 3,402. Keeping this in mind, Air Suvidha forms are being reintroduced by the government for all international travelers. 
Since March 2020, the world has been struggling to cope with the deadly infection of the coronavirus. It's been a few months, or we can say that since the start of 2022, India has reined in the spread of coronavirus and removed all restrictions. But it seems like God has some other plans.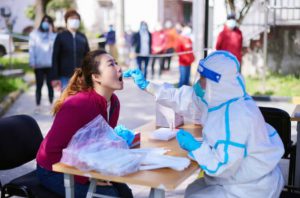 The coronavirus cases have been increasing rapidly in some parts of China and other nations since last week, and to make sure that things remain under control in India, the Health Ministry has already taken a few steps. 
Due to more COVID cases, the Union Health Ministry is likely to require all passengers and travelers coming from China or any other country to fill out Air Suvidha forms again. Under this service, people who want to travel must show either an RT-PCR report from within 72 hours of their trip or a valid proof of vaccination.
Rumor has it that a decision will be made soon after assessing the situation over the next few weeks. The word on the street is that a decision will be made soon after the situation is looked at over the next few weeks.
Union Health Minister Mansukh Mandaviya took the above actions after a meeting that was planned to look at the current situation of COVID in the country. He saw that the number of cases was rising quickly in China and other places, which made him decide to do this.
According to reports, random samples of passengers traveling from China and other nations will be tested for COVID at airports. In light of the rising number of COVID cases in China and other countries, the Health Ministry is likely to bring back the necessary Air Suvidha paperwork for foreign tourists.
The Union Minister went on to say that COVID was still going on and that he had told the right people to be more careful and watchful. Additionally, he stated that they are equipped to handle any scenario.
While this is going on, all COVID positive cases must have samples sent daily to INSACOG Genome Sequencing Laboratories (IGSLs) for sequencing and monitoring any new variants.
The latest information from India's Health Ministry shows that 185 new cases of coronavirus infection have been reported, while the number of active cases has dropped to 3,402.
The post Govt to re-introduce 'Air Suvidha' for international travelers appeared first on World Tour & Travel Guide, Get Travel Tips, Information, Discover Travel Destination | Adequate Travel.