Among the variety of things to do in Chicago, shopping for daily produce is the most prominent. There are many daily farmer's markets, flea markets, and Local markets in Chicago from where natives collect their daily produce. Each market has its significance for the local people. Some of them serve fresh vegetables and fruits, while others are great places for gatherings. There are many shops in these markets that sell raw seafood, pickles, antiques, apparel, and other household things. You can visit these regional farmer markets in Chicago to purchase budget-friendly items of your need.
Chicago gives particular importance to its farmers and believes in promoting local farmers instead of importing groceries from any other part of the country. So, no matter which day of the week it is, you will find a market within walking distance from your residence. Every market has its timing, and it helps at a specific location. You can head to that location to buy stuff of your need. Here is the list of some famous markets in Chicago where natives can purchase kitchen essentials and other household items.
List of Best Local Markets in Chicago




1. Chicago French Market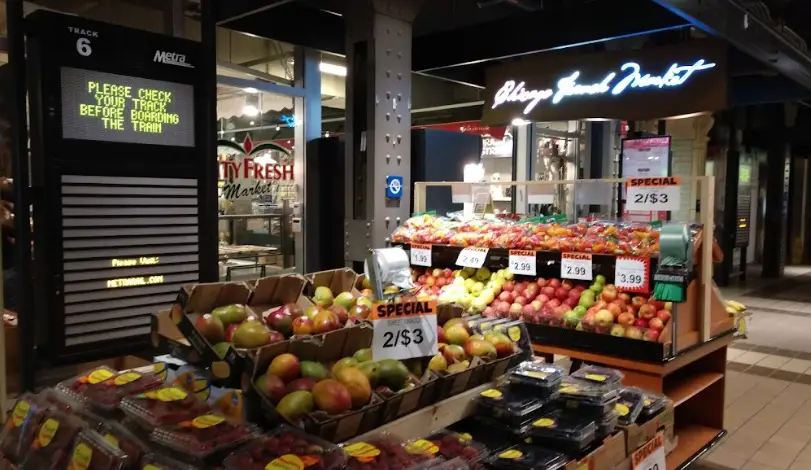 Founded in 2009, this Local market in Chicago is also nominated as the best public market of Chicago. There are various options here where people can buy groceries, fruits, ready-to-cook items, seafood, and many other daily items. Apart from this, there are many restaurants and shops in this market that offer different cuisines. You can have Ethiopian, Chinese, Korean and Indian dishes at these stalls. This place is inside the mall and has around 30 shops.
Location: 131 N Clinton St, Chicago, IL 60661, USA
Open: Monday–Friday from 9 am to 3 pm, Saturday from 10 am to 3 pm (closed on Sundays)
Read More: Adventurous Things to do in Chicago
 2. Green City Market 
Indoor Market: Here comes another indoor market in Chicago that offers various raw and comforter food. Not in a mood to cook food tonight, you can head to this market and have some fantastic sandwiches and tacos. This place serves the best combinations of tacos and sandwiches with thick smoothies. Travelers can visit this place on Saturday evening and enjoy significant social events here. Apart from the cuisines, this place also has shops where people can buy daily essentials, household accessories, and other products.
Location: 1817 N Clark St, Chicago, IL 60614, USA
Open: June–November: Saturday from 7 am to 1 pm
 3. New Maxwell Street Market
This is a 30 years old market in Chicago. In the early days of the foundation, Maxwell Street Market was known as a flea market. Immigrants from different countries stand on the roadside holding their pushcarts, selling wares on them. Currently, this market is located in a new place, but the popularity and the crowd of people are still the same in this market. You can visit this market on the weekend. From divergent food stalls to daily collectible stores, this market has many other things to shop for. You will not get bored of visiting this market as this is the best place for savvy shoppers and food enthusiasts.
Location: 800 S Desplaines St, Chicago, IL 60607, USA
Open: Friday from 9 am to 4 pm, Sunday from 7 am to 2 pm. 



4. Logan Square Farmers Market
 Logan Square Farmers Market is generally held on Sundays throughout the year. Farmers of this place cultivate and sell fresh vegetables and fruits to the local people. As this market is held once a week, the crowd of people on this day is at its peak. Additionally, if you feel peckish, you can order delicious food and enjoy it along with the pleasing songs by local musicians.
Location: 3029-3031 N Rockwell St, Chicago, IL 60618, USA
Open: Sunday from 7 am to 1 pm.
Read More: Water Parks in Chicago
 5. City Market at Daley Plaza
 This seasonal market in Chicago remains crowded almost every time of the day. Multiple farmers came here on Thursday to sell self-cultivated fresh vegetables. Due to its convenient timings, this is the most sought-after market in Chicago. It is very suitable for the local people and office employees to visit this market during lunchtime to purchase groceries for their home.
Address: 50 W Washington St, Chicago, IL 60602, United States
Open: Every Thursday, 7 am to 2 pm.
 6. Randolph Street Market
This market is known as the best local market in Chicago to purchase antiques. This market held in Randolph Street always remains crowded with foreign visitors. As already mentioned, this has the best shops to buy antiques and decorative items. You can purchase showpieces, wall hangings, curtains, old coins, clothing, and art pieces. On the other side of the street shops, there is a food market where tired shoppers have various drinks and foods.
Location: 1341 W Randolph St, Chicago, IL 60607, USA
Open: Saturday–Sunday from 10 am to 5 pm. 



7. Bronzeville City Market
The Bronzeville City Market in Chicago is the most affordable local farmer market in Chicago. People can find here everything from fresh fruits, street eateries to fancy restaurants. Vegetables sold here are sourced from local farmers. Even the farmers themselves come to this market to sell the vegetables. You can promote the local business in Chicago by purchasing items from this Bronzeville City Market. 
Address: S King Dr & E 26th St, Chicago, IL 60616
Open: Sunday 10 am to 12 pm
Read More: Road Trips From Chicago
More than 60 farmer markets in Chicago are famous for their fresh farm cultivated vegetables and fruits. You might get stuck with this long list of popular markets in Chicago. This blog will help you find a suitable shop to feed your needs and your hunger.
Most antique shops, shopping malls, and top local markets in Chicago are the central hub for visitors. Not only for collecting daily essentials, but these are also places where you can sit on the fountain side and enjoy cultural activities, stage shows, and concerns with your friends and family. Additionally, if you are visiting Chicago for the first time, you can see the places mentioned in this article to buy Souvenirs for your loved ones.
The post 7 Best Local & Street Markets in Chicago appeared first on World Tour & Travel Guide, Get Travel Tips, Information, Discover Travel Destination | Adequate Travel.