If you are a parent looking forward to spending a fun weekend with your kid or planning for a unique birthday surprise, why not spend the day at some amazing water parks in Sydney. Children love playing water, splashing the water and enjoying the rides. Even the best celebration won't compare to the pleasure that kids get in water parks. The following are some of the best water parks in Sydney for your kids, and believe us you will literally have to drag them out of the rides:
Water Parks in Sydney Australia
1. Aquatopia at Prairiewood Leisure Centre
Aquatopia is one of the famous parks in Sydney with water play that is created to offer amazing water park experience to the people of Sydney at affordable prices. The water park consists of an adventure aqua tower with 79 unique elements along with a wave rider, 10m high giant slides, and toddler' pool. The park also allows you to bring the food and water of your own inside.
Address: Prairie Vale Rd &, Moonlight Rd, Prairiewood NSW 2176, Australia
Visit: Best Outdoor Activities in Brisbane
Official Website: fairfieldcityleisurecentres.com.au
2. Wet'n' Wild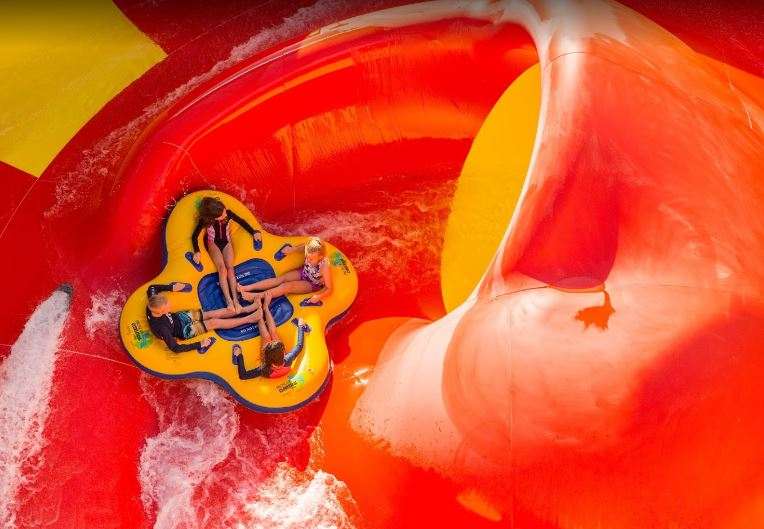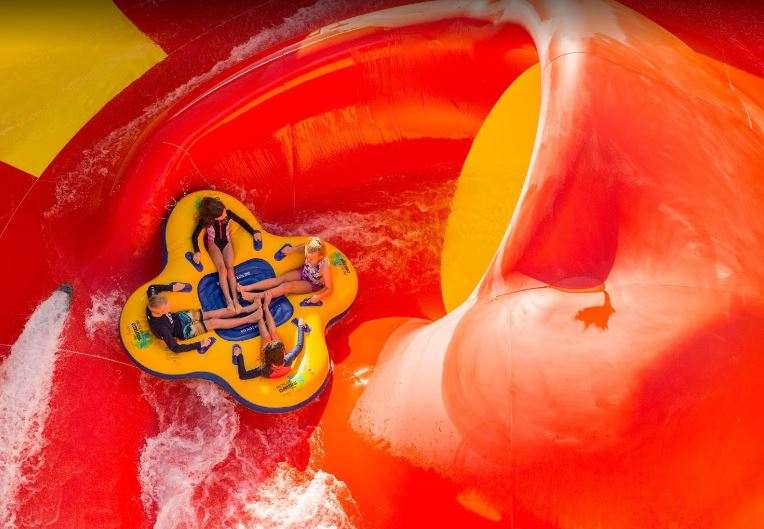 The Wet' n' Wild is one of the most reputed and biggest water parks in Sydney. There are as many as 40 wet' n 'wild Sydney rides options, which will literally spoil you for choices. There are slides, a wave pool, a dinosaur lagoon, and other attractions. Apart from that, there is a specific section specially dedicated to kids developed by Nickelodeon. The park offers free parking. To beat the heat, it has become one of the favorite spots. The Wet 'n' wild Sydney tickets can be booked from their website online or bought from the park itself.
Address: Oxenford QLD 4210, Australia
3. Darling Quarter
The Darling Quarter is one of the popular and the top water parks in Sydney. You will always find kids brimming with excitement in the water park. A large section of the water park has a pump station with as many as 26 water jets, which make several beautiful water patterns. It also has a water school that splashes water and an Archimedes water screw. The water park also features a dam that is controlled by 5 water gates, 7 water switches, and a water wheel.
Address: 1-25 Harbour St, Sydney NSW 2000, Australia.
Visit: Water park of Tuscany
Official Website: darlingquarter.com
4. Mary O'Brien Reserve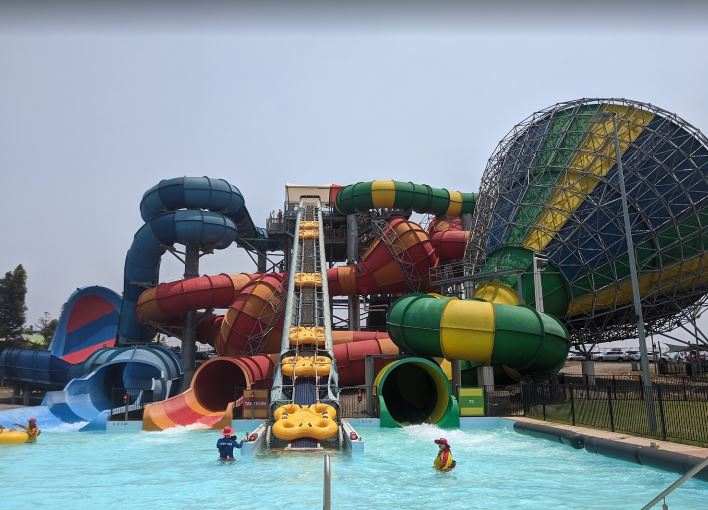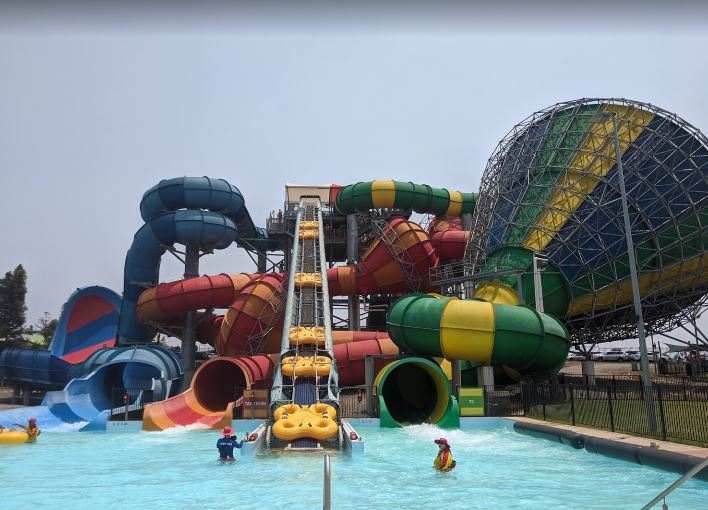 Mary O'Brien Reserve is considered as a fun water park in Sydney which consists of 2 playgrounds. It is suitable for younger kids only. The place is perfect for kids up to the age of 8 years. The water area is safe for kids and child-friendly so that parents can rest assured that kids are at a safe location. There is a soft blue sponge on the floor of the water area from where the jet shoots.
Address: 36V5+R7 Zetland, New South Wales, Australia
Read More: Theme Parks of Amsterdam
5. Domain Creek Playground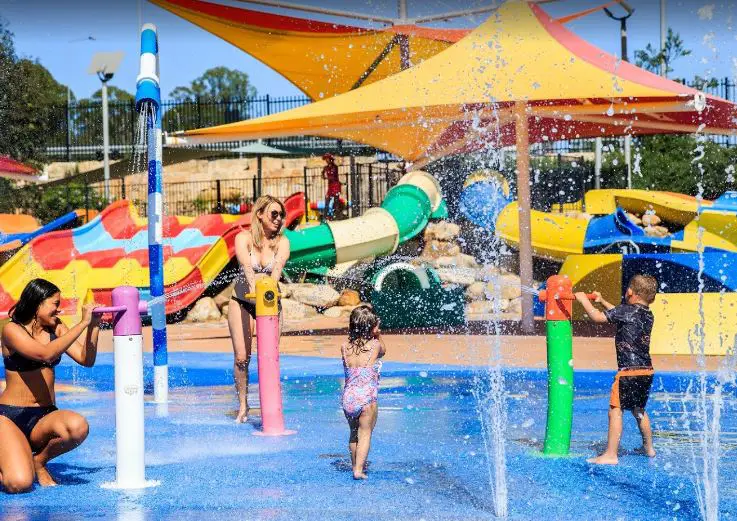 This one is relatively a new water park on the block but has gained immense popularity in a short span of time. It is one of the free water parks in Sydney, which can also be attributed as the reason for its popularity. The water playground in Sydney has musical instruments, swings, diggers, trampolines, and flying foxes. The water section has ready to use the water pump.
Address: Park Ave & Park Parade, Westmead NSW 2145, Australia
6. Nurragingy Reserve Water Park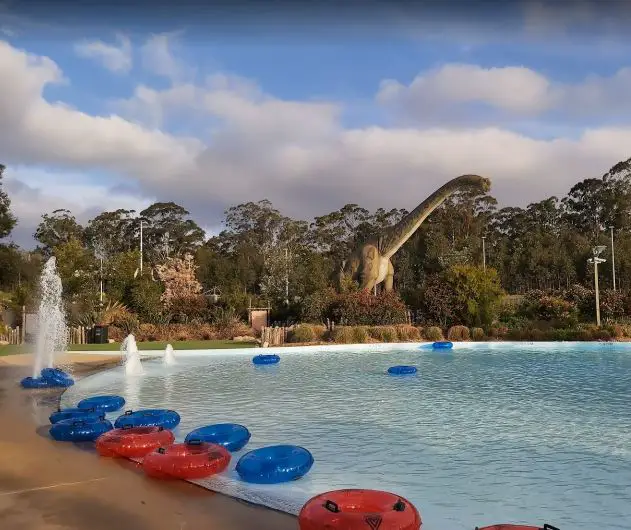 The water park is one of the best water parks in Sydney. It is not opened for the entire year; still, it has gained popularity in Sydney.  Kids of all ages enjoy here at the playground because it is suitable. It will amuse your child irrespective of their age. You can find some of the best fountains in the water park, which makes it a must-visit.
Address: 427 Reservoir Rd, Prospect NSW 2148, Australia
Read More: Theme Parks in Istanbul
7. Putney Park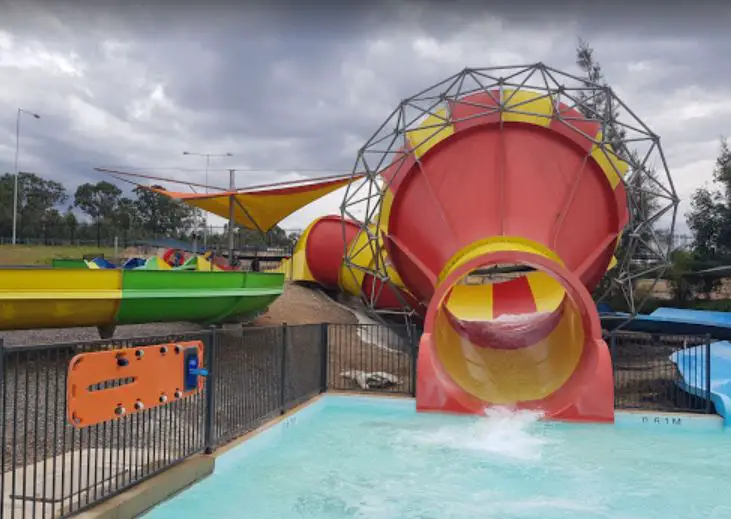 Putney is a beautiful water park in Sydney which is located on the banks of River Parramatta. One of the main attractions of this place is the infinite expanse of grass and the natural area, which is no less than a visual delight. The park has a massively huge playground which consists of a water area so that both kids and elders can enjoy it.
Address: Pellisier Rd, Putney NSW 2112, Australia
Official Website: ryde.nsw.gov.au
8. Jamberoo Action Park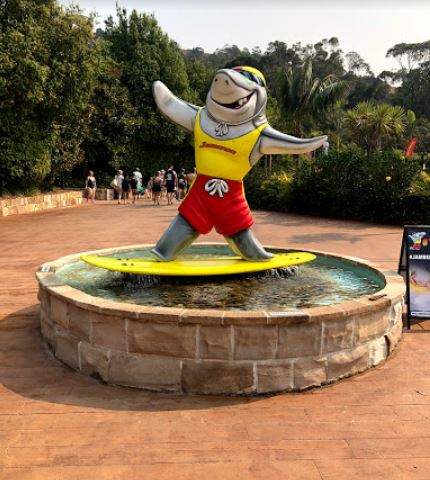 It is one of the magnificent parks in Sydney with water that is sprawling across 40 hectares of land. The Jamboree Action Park is no less than a storm. You name it, and they have it; the fastest, tallest, and longest ride built ever. The water park is located a bit away from Sydney, but it is worth planning a trip. The water park has several rides that are suitable for kids as well as adults.
Address: 1215 Jamberoo Rd, Jamberoo NSW 2533, Australia
Read More: Famous Monuments in Sydney
9. Granville Park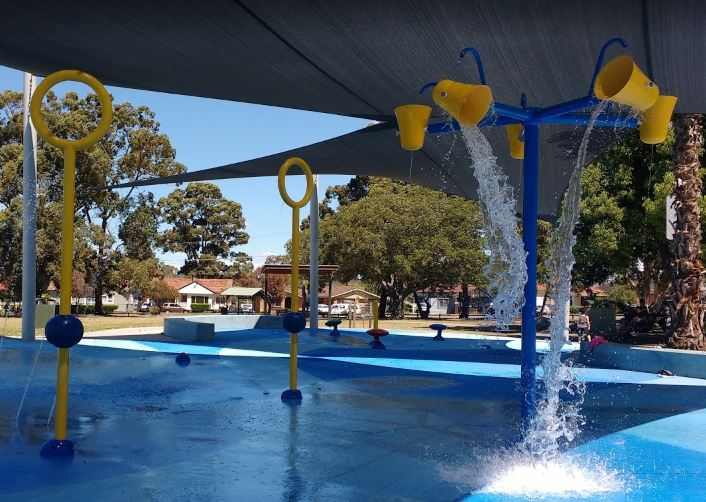 The Granville water park is one of the family water parks in Sydney.  It was designed to be sustainable and has a wide array of water rides. The 'tipping buckets' is one of the main attractions that dump 1600 liters of water in a minute. The park is built on a sprawling 13.2 hectares of land, and there is a playground next to the water park.
Address: 2 Montrose Ave, Merrylands NSW 2160, Australia
10. Steel Park( Waterplay Park)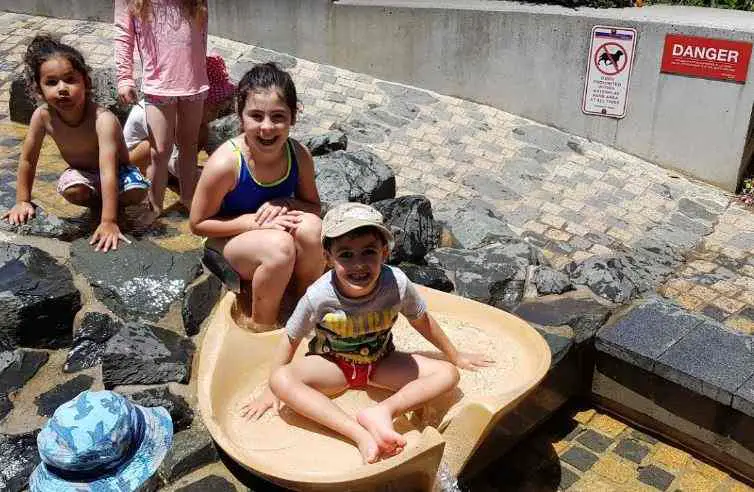 A list of top 10 water parks in Sydney is incomplete without it. This Marrickville play area is not just a place to cool off and have fun, it also teaches some valuable environmental lessons as it was designed to encapsulate the entire water cycle. Water for the park comes from the roof of the Debbie and Abbey Borgia Centre and is fed into play features such as interactive fountains, sprinklers, and misty spray elements, just push the button to make it flow. It's open from 10 am-6 pm until March.
Address: Illawarra Rd, Marrickville NSW 2204, Australia.
Read More: Water Parks in Vienna
Official Website: innerwest.nsw.gov.au
So far we have discussed the best water parks in Sydney, which contains the proper information regarding all the family water parks in Sydney. I hope you might have loved reading this article and if you love to know more about Sydney then kindly head to our other articles as well which will help you to get knowledge about Sydney.
The post 10 Best Water Parks in Sydney | Indoor Water Parks in Sydney appeared first on World Tour & Travel Guide, Get Travel Tips, Information, Discover Travel Destination | Adequate Travel.