Synopsis: Assam has been witnessing floods for the last few days. As many as 88 people have lost their lives due to heavy rains in various parts of the state. More than 55 lakh people are affected by this disaster.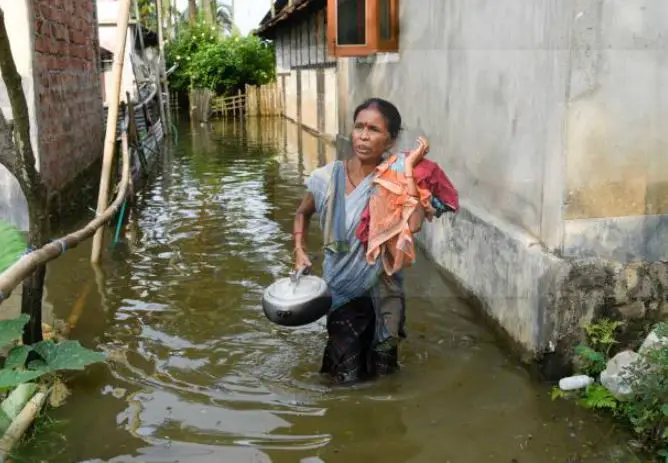 When the rest of the country is relishing the monsoon shower, the situation in Assam is completely contrasting. The flood situation in Assam is deteriorating steadily and the number of deaths rises to 88 on Tuesday. Assam is facing a really bad time this monsoon due to heavy rainfall in the past few days.
According to a report, 55 lakh people across 32 districts are badly affected due to the flood situation in Assam. The water level in Brahmaputra and Barak Rivers has been increasing briskly due to heavy rainwater. The situation worsened on Tuesday after a considerable amount of rainfall in the state had been declared by the meteorological department. The government issued strict warnings to the citizens as a severe flood situation arose in the state. 
The flood situation in Assam is exacerbating rapidly and 88 deaths have been reported so far. More than 32 districts are poorly affected due to the sudden flood situation in Assam and around 55 lakh people are struggling to save their lives. The death toll could rise further if the water level continues to rise. According to reports, the Brahmaputra river has breached its banks at several places.
The flood waters have inundated large areas of Guwahati city and other districts. Many roads and bridges have been damaged. In view of the rising flood situation, the authorities have imposed restrictions on the movement of vehicles and boats.
In Cachar, 2.16 lakh individuals across 506 towns are enduring, while in Karimganj, 1.47 lakh individuals have been impacted badly in 454 towns. In Silchar, few regions were submerged. Until now, 425 people were rescued across the state and more than 10,468 people are nestled in 57 flood relief camps in different locations.
Chief Minister Himanta Biswa Sarma, visited multiple flood relief camps in Assam including the camp in Nalbari and Kamrup districts. He added that the government will announce a relief package soon. Also, the government will soon launch an online portal to register their livestock loss and other damages caused by floods. 
According to reports, Barpeta is the worst-affected district with more than 12 lakh affected people. Apart from this, the conditions of Dhubri and Darrang are identical with around 5.94 lakh and 5.47 lakh affected people. So far, 2.62 lakh people have been rescued and have presently taken shelter in 862 relief camps located in different parts of the state.
The post Assam is facing a really hard time as the flood situation worsened on Tuesday appeared first on World Tour & Travel Guide, Get Travel Tips, Information, Discover Travel Destination | Adequate Travel.