Brunch in a new trend. How many bars and restaurants in Barcelona have decided to sign up for the phenomenon. You will find many best places in Barcelona for brunch. In brunch, the food has been refined and rejuvenated into new cuisines. Whether you're looking for some energy from scrambled eggs or want toast with bacon after a weekend of exploring the city, look no further than these places with some of the best brunch spots in Barcelona: 
Barcelona's Famous Brunch Places
1. Milk
 
Main Dish: Chilaquiles
Price: €10.25
With cozy plush sofas, glittering chandeliers and 50s-style wallpaper, just popping in for a quick drink at Milk, the best brunch place in Barcelona can make you feel a little special. The venue is a stalwart of the city's brunch scene, with their famous Recovery Brunch, served every day from 9 am in the morning to 4:30 pm in the afternoon. You can order classics like eggs benedict, American pancakes or an English-style fried breakfast with bacon, beans, etc.
Address: Carrer d'en Gignàs, 21, 08002 Barcelona, Spain.
Opening Time: 9 AM – 2 AM
2. Flax & Kale
Main Dish:  Pasta and Salads
Price: €8-11.
A mostly vegetarian restaurant, Flax & Kale serves brunch on weekends and holidays from 10 am to 5 pm. If you're into eating clean and searching the best brunch places in Barcelona go here to order things like vegan pear-chocolate muffins, coconut chia pudding, and healthy fruit and yogurt bowls. They also serve heartier main courses like pasta and salads.
Address: Carrer de Sant Pere Més Alt, 31-33, 08003 Barcelona, Spain.
Opening Time: 9 AM – 11:30 PM
Read More: Best Wine Bars in Barcelona
3. Caravelle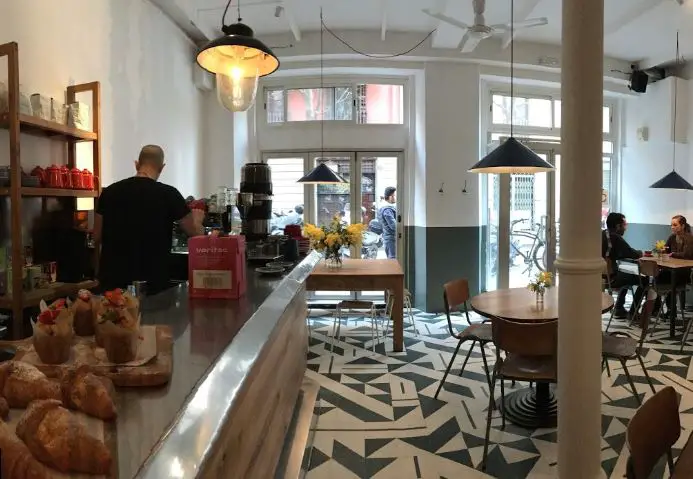 Main Dish: Baked Eggs
Price: €8-9
Caravelle's menu takes its inspiration from all corners of the globe, and their brunch menu has some especially tasty items that you may not have tried elsewhere. The baked eggs based on Moroccan cuisine are one of their standout items, as is their coconut French toast topped with ice cream and strawberries. They also make an excellent homemade toasted muesli.
Address: Carrer del Pintor Fortuny, 31, 08001 Barcelona, Spain
Opening Time: 9:30 AM – 12 AM
4. Firebug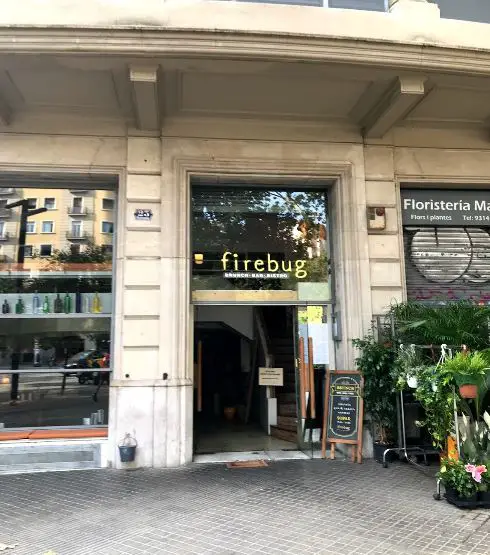 Main Dish: Mediterranean Toast
Price:  €9.75.
Located on the up-and-coming Passeig de Sant Joan, Firebug only opened at the beginning of 2016 but has already made its mark on the brunch scene. It is one of the best places in Barcelona for brunch. Their focus is on serving fresh, whole foods and healthy ingredients. Favorites include their traditional fry-up with bacon, beans, mushroom and eggs, chorizo hash with manchego cheese, hummus, Latin cheese, toasted seeds, and basil oil. 
Address: Passeig de Sant Joan, 23, 08010 Barcelona, Spain
Opening Time: 10 AM – 1:30 AM




5. Belushi's Bar
Main Dish: Karma Kick
Price: €11-10
Popular with hip young travelers, these top brunch spots in Barcelona keeps on serving up its recovery breakfast until 2 pm. On the menu you'll find several turbo-charged options, none more powerful than "The Resurrection" which features bacon, eggs, sausage, baked beans, grilled tomatoes, and crispy hash browns. The Karma Kick (spinach, tomato, cheese on a grilled hash brown) is a great vegetarian alternative.
Address: Carrer de Bergara, 3, 08002 Barcelona, Spain. 
Opening Time: 11 AM – 2:00 AM
Visit: Beautiful National Parks in Spain
6. Marmalade
Main Dish: Crumpet Stiltskin
Price: €9.95.
Housed in a massive and very cool  wood-paneled space in the heart of the Raval district inspired by the 1950s and considered as famous brunch spots in Barcelona, Marmalade serves brunch on Fridays, Saturdays, and Sundays from 10 am to 4:30 pm You can choose from an extensive selection of smoothies, sweet dishes (like American-style pancakes) and savory ones like scrambled eggs with black sausage and gruyere cheese on delicious sourdough bread, as well as salads, bruschettas, and burgers. Plus there are several options and variants for vegans and vegetarians. 
Address: Carrer de la Riera Alta, 4, 6, 08001 Barcelona, Spain
Opening Time:  10 AM – 6 AM




7. Federal
Main Dish: Burgers
Price:  €8-10.
Federal was one of the first cafés and popular brunch places in Barcelona to hit it big on the Barcelona scene, and it's since opened a second location in the Catalan capital, as well as ones in Madrid and Valencia. Their food continues to stand out, particularly the avocado toast, breakfast burgers, and egg dishes. Order one of their creamy flat white coffees and a slice of cake to finish off your extended breakfast.
Address: Carrer del Parlament, 39, 08015 Barcelona, Spain.
Opening Time: 8 AM – 11 PM
Tour: Popular Castles in Spain
8. Clubhaus
Main  Dish: Bravocado
Price: €6.90.
Enjoy at this one of the great brunch places in Barcelona, slap-up brunch in their light and airy "Showroom" ground floor, where offerings include Rancheros Con Huevos Mexican-style fried eggs with corn chips, beans, and spicy sauce, "Bravocado" – smashed avocado on sourdough bread, and Banana Pancakes, served with strawberries, blueberry compote and dulce de leche. For the full experience select their €25 brunch combo, where you select one savory plate, and one sweet plate, and get to sip on unlimited Bloody Marys and mimosas for two hours of an open bar. 
Address: Av. del Marquès de l'Argentera, 13, 08003 Barcelona, Spain.
Opening Time: 9:30 AM – 2:30 PM
9. Gigi Von Tapas
Main Dish: Meadow Crisp
Price: €11.50.
Order your brunch served on antique china plates from the Encants Flea Market in this gorgeous new locale next to the Monumental Bullfighting Arena and undoubtedly one of the nice brunch places in Barcelona. On the extensive menu, there are eggs any way you like them, including three different types of Benedict, Turkish eggs and omelet with smoked haddock and creme fraiche (Whirling Dervish), all made from free-range eggs. 
Address: Carrer de la Marina, 189, 08013 Barcelona, Spain.
Opening Time: 9 AM – 2 PM
10. Brunch & Cake
Main Dish: Sandwiches with brie, strawberries and caramelized onions.
Price: Price: €6-10.
It doesn't matter which location you go to, you can not miss this one of the top brunch spots in Barcelona. Almost all of them will be packed throughout the day. The menus are updated frequently but expect a twist on your favorite foods, such as eggs benedict served atop a waffle or sandwiches with brie, strawberries and caramelized onions.
Address: Carrer d'Enric Granados, 19, 08007 Barcelona, Spain.
Opening Time: 8:30 AM – 9:30 PM
Related Post: 




So these are the best brunch spots in Barcelona, with respect to the best time to go, address and dishes. You can plan according to your comfort. I hope you will love this article as we have tried to provide you as per your concern and kindly share your views in the comment section.
The post Amazing Brunch Spots in Barcelona | Brunch in Barcelona Spain appeared first on World Tour & Travel Guide, Get Travel Tips, Information, Discover Travel Destination | Adequate Travel.