Well talking about France Travel Guide, being one of the largest countries in Europe, it can be difficult to choose an entire city to travel to in France, but it is possible to travel to France and enjoy the best of its culture. Those who have visited France will find it has a topography, which includes the French Alps to the sandy beaches of the Mediterranean, here we are offering visitors a chance to personally design their trip. France is a country rich in its history, making it home to some of the most famous museums, monuments, architectural feats, and historical sites in the world.
Here we will be providing you the France travel information, There's nothing like the Seine river. Traveling to France is not a very expensive affair. Make sure you go to France with a few extra Euros in your pocket so that you could soak in all the food, wine, and beauty you see but this guide will help you cut costs.
Here We have Some France Travel Tips
Things Not to Miss in France    
Visit wineries in Champagne and Bordeaux, the hearts of French wine country, or visit Normandy for delicious, locally produced cider and apple brandy

Take the best view of the French Riviera by visiting the cities of Marseille, Nice, and Montpellier

Experience French Basque culture in Biarritz, situated on the French-Spanish border

See The Louvre, Eiffel Tower, Tuileries Garden, and other best sights in Paris

Check out the city of Strasbourg, which shares the French and German cultural heritage and serves as the seat of the European Parliament

Follow the footsteps of Vincent Van Gogh and stay in the exceedingly charming city of Arles where he has created some of his most amazing works
France Travel Tips-Money Saving Tips
Have a picnic –

Eating out in France, especially in Paris, is quite an expensive affair. Restaurants can break the full day's budget quickly.  Visit the local market, buy some wonderful cheese, bread, fruits, and meats, have a picnic, and watch people going by. You can have a nice meal for less than 10 EUR.

Take the (slow) train

– Train travel in Europe is really very cheap, and it's the easiest way to get around France. The TGV line can be expensive, but if you get the slow train or have a Eurail pass, you can save money

Drink wine –

In France, wine is much cheaper than water. Drink wine over and save big. A nice bottle can cost as little as 3 EUR.

Skip the clubs –

Clubs in France are expensive and charge 23 EUR for an entrance. Drinks cost around 12 EUR or more. If you don't want to spend 90 EUR in one night then skip the clubs.

Take advantage of being under 26 –

France has discounts for people who are under 26 if they have the ISIC card so be sure to get one.
Top 5 Things to See and Do in France
Paris

has everything, like the Louvre, impressionist museums, the Eiffel Tower, the Seine, magnificent parks, jazz, and great food. It's as magical as people say, four or five days can give you a good idea about it. This is one of the tourist's favorite cities in the world.



The Loire is lovely with tons of vineyards and chateaux. You will find the best wine in the world, beautiful small towns, and great food. It's an area which not to be missed.




Marseille is a metropolitan city that has a rich history filled with nightlife, great restaurants, theaters, museums, and even an international soccer stadium.

Nice is nice, this seaside town in the south is the perfect destination for budget travelers who want to soak up some sun. I don't think the beaches are that great, but the central location makes it easy to explore the rest of the coast.

Some best wine in the world is made in Bordeaux. It's quite an expensive destination, it's beautiful and worth all the Euros you'll spend. Bordeaux has the longest shopping streets in Europe, amazing seafood a historic center, and of course, wine. Next, to Paris, it's tourist's favorite place in France.
You must know that France is mainly famous due to its capital, Paris. So let's discuss some best places to visit in Paris.
1. Eiffel Tower
Paris is nothing without its symbolic tower, ie EIFFEL TOWER. It was built in the year 1989 by GUSTAVE EIFFEL. It is the most visited place, we can assume that approximately 7 million visitors visit this monument. It is one of the well-known structures of the world.
Address: Champ de Mars, 5 Avenue Anatole France, 75007 Paris
2. Arc of Triumph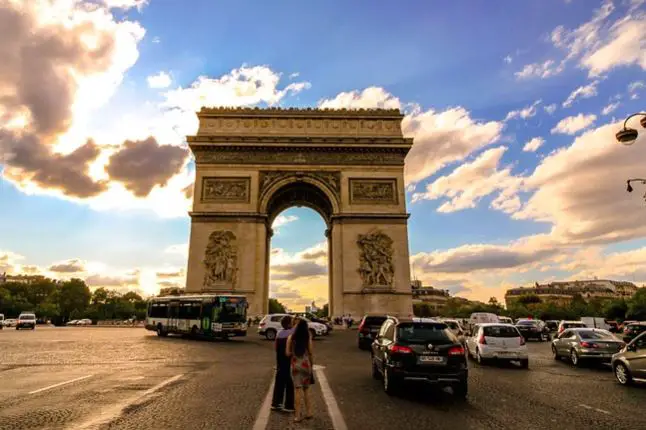 Arch of Triumph is the largest monument of its type in the entire world. This arch is dedicated to the glory of imperial armies and was built in the 19th Century between 1806-1836. This ARC was made in the honor of those who fought for FRANCE, during the Napoleonic Wars.
Address: Place Charles de Gaulle, 75008 Paris, France
3. Cruise on The Seine 
Most of the visitors came to Paris to enjoy their Honeymoons with their loved ones, so It would be very romantic to see Paris by Boat. It's a very popular way to see  Paris by SEINE CRUISE. These Cruises help you to see many of the cities like-Louvre, the Eiffel Tower, Notre Dame, etc as you float along the river SEINE.




5. Pantheon
PANTHEON is a place where famous French Citizens were Buried. Before being converted to PANTHEON originally it was a church and was dedicated to St. Genevieve, the saint of Paris. The Pantheon consists of two words ie. "Pan" means 'Everything' and "Theon" means 'Divine'.
6. Disneyland, Paris
How could we forget about our children? Disneyland is very interesting for young ones as well as for elders too. It is an entertainment resort situated in a new town which is 32 km east of the center of Paris. Also, we can say that it is the most visited theme park. All the fans of Mickey Mouse used to visit Disneyland. As we know that it is a theme park so let me tell you that there are 2 theme parks Disneyland and Walt Disney Studios.
Also Read: A Complete Travel Guide for Paris 




Some Best Restaurants in Paris:
Bouillon Chartier
Address: 7 Rue du Faubourg Montmartre, 75009 Paris, France
Chez Gladines
Address: 30 Rue des Cinq Diamants, 75013 Paris, France
Nous 4 Restaurants
Address: 3 Rue Beccaria, 75012 Paris, France
Le Bistrot d'Andre
Address: 232 Rue Saint-Charles, 75015 Paris, France
Polidor
Address: 41 Rue Monsieur le Prince, 75006 Paris, France
Mainly the French language is spoken throughout France but English is also spoken somewhere in France.
Also Find: Best Romantic Restaurants in Paris 
Best Season to Visit France
High Season (mid-June to August and mid-December to early January):
This is the time when the weather is ideal and you can enjoy long days of sunshine, but it's the most crowded time, when lines are likely to belong, the crowds thick and the prices at their highest of the year.
The high season extends the summer months in some places, particularly Paris, with accommodation rates generally higher between April and October. Book the Best Hotels in Paris in Paris months in advance.
Shoulder Season (April through mid-June, September, and October):
Other than Paris, shoulder season is the best time to visit France, with fewer crowds, typically mild weather and occasionally discounted hotel rates. In Paris, the closest to a shoulder season may be late sometimes, then it will be February through March and mid-October through mid-November. While it's likely to be chilly, the crowds won't be as thick as they are during the high season.
Low Season (November through March, except around the holidays):
During the low season, the lines for all the attractions are much more reasonable, and you can get a better glimpse at how the locals really live. The weather can put a damper on things, however. If you're going to the north, be sure to pack warm clothing as it will be cold and even freezing during the night. Of course, Paris with a dusting of snow is magical.




Don't Miss
So far we have provided you the France travel information, which could be beneficial for the tourist to get all the France travel information, as we are providing your a complete travel guide for France then it includes,  things to see and do in France, money-saving tips, things not to miss in France, best places and restaurants to visit in Paris, season to visit France.
The post France Travel Guide- Best Travel Tips, Travel Information About France appeared first on World Tour & Travel Guide, Get Travel Tips, Information, Discover Travel Destination | Adequate Travel.