Some of the most famous seafood restaurants in Barcelona are located along the boardwalk with wonderful views on the Mediterranean Sea. There are, however, a few more 'in-land' seafood gems, that are less touristy and have similarly as delicious food. Barcelona is a city whose gastronomy has been molded by its vicinity to the ocean. Regardless of whether it's splendid red Palamos prawns or the best Galician mussels, the Atlantic coast isn't that distant either there's a bounty on offer in these extraordinary Barcelona seafood restaurants.
List of Seafood Restaurants in Barcelona
1. Martínez
Perched on the side of Montjuïc hill, Martínez overlooks the busy Barcelona port and Mediterranean sea behind it. It is known to be as one of the best seafood restaurants in Barcelona Spain. Although not exclusively a seafood restaurant, delicacies of the sea are considered to be Martínez's specialties: line-caught prawns, juicy lobster, French oysters, gourmet tinned seafood and whole roast fish. The lobster 'Arroz caldoso' or 'stewed rice' is one of the best in the city.
Address: Ctra. de Miramar, 38, 08038 Barcelona, Spain
Contact: martinezbarcelona.com +34 931 06 60 52
Opening Time: 1:00 PM
2. Botafumeiro
This is one of the great classic and top seafood restaurants in Barcelona, located in the Gràcia neighborhood and within close proximity to the upmarket Sarrià neighborhood. The restaurant opened in 1975 and has since made a name for itself as one of the best seafood restaurants in the city, serving fresh fish bought at auction in Catalonia and Galicia each morning. The setting is traditional with a certain feeling of pomp and grandeur offered by the white table cloths and brass fittings.
Address: Carrer Gran de Gràcia, 81, 08012 Barcelona, Spain
Contact: botafumeiro.es +34 932 18 42 30
Opening Time: 12:00 pm
Read More: Best Wine Bars in Barcelona




3. La Barceloneta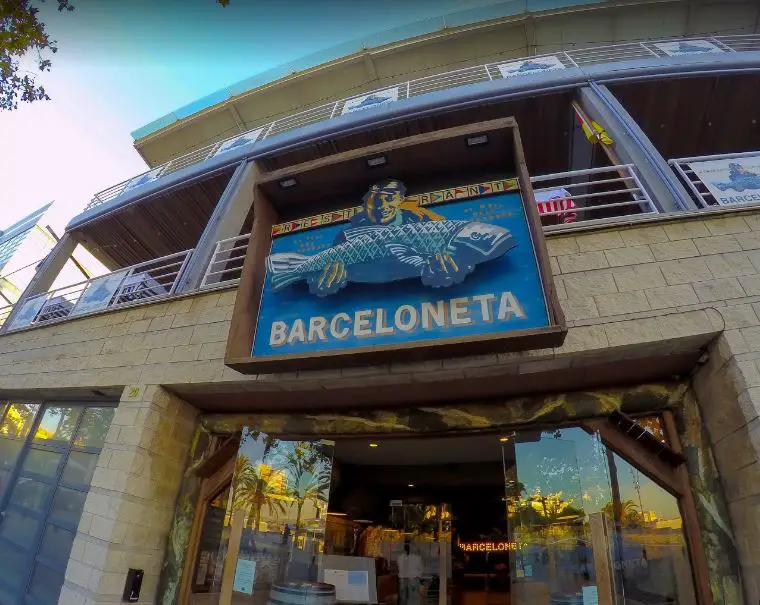 Named after the old fisherman's neighborhood in which it is located, La Barceloneta is another of the most well-regarded seafood restaurants in the city. Situated away among the docks of the Marina Port Vell, the restaurant is a favorite for families at weekends and businessmen looking to impress clients during the week. This best seafood restaurant in Barcelona restaurant offers both grilled fish, fresh seafood and rich seafood paellas prepared the authentic Catalan way.
Address: Moll dels Pescador, Port Vell, Carrer de l'Escar, 22, 08039 Barcelona, Spain
Contact: restaurantbarceloneta.com  +34 932 21 21 11
Opening Time: 1:00 PM
4. Xiringuito Escribà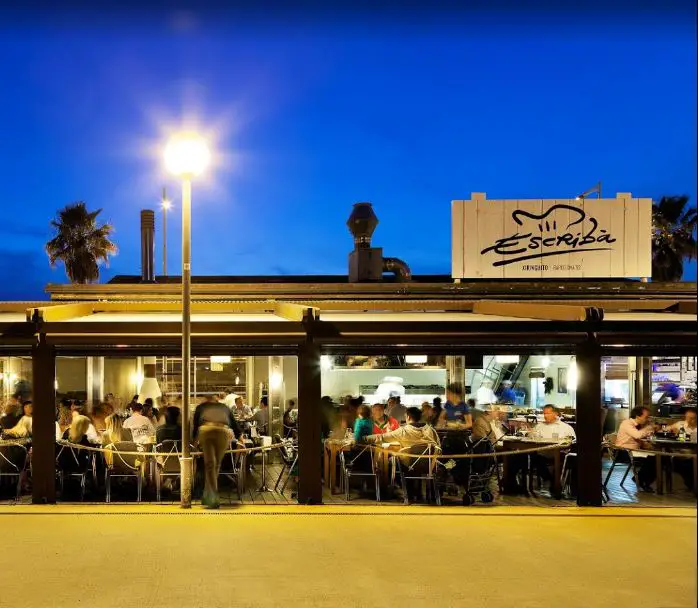 Your search for the popular seafood restaurants in Barcelona definitely will end here. What better way to enjoy a seafood meal than with the sight of the open water in front of you. Located on the beachfront of the Bogatell beach in Barcelona, the Xiringuito Escribà is famous for its paella dishes, which are prepared both with rice or with a small noodle called fideuà which is typical in Catalonia. Be sure to leave room for dessert as they belong to the same family as the Pastisseria Escribà on la Rambla – one of the city's most renowned patisseries.
Address: Av. del Litoral, 62, 08005 Barcelona, Spain
Contact: xiringuitoescriba.com +34 932 21 07 29
Opening Time:  12:00 PM
Visit: Beautiful National Parks in Spain
5. Rías de Galicia
The story of the team behind Rías de Galicia goes from the humble beginnings of a local husband and wife who wanted to open a good seafood restaurant to co-opening Tickets – one of Barcelona's most famous tapas bars – with world-renowned chefs Albert and Ferran Adrià. Long story short: Rías de Galicia is today one of the leading seafood restaurants in Barcelona thanks its emphasis on outstanding quality produce and commitment to both culinary tradition and creativity.
Address: Carrer de Lleida, 7, 08004 Barcelona, Spain
Contact: riasdegalicia.com +34 934 24 81 52
Opening Time: 1:00 PM
6. La Gambeta
An exposed red-brick dining room contrasts with crisp white table-cloths to set the atmosphere of this stylish seafood restaurant. Located in the city's trendy El Born district, just a short walk from the Ciutadella Park, La Gambetta or 'the little shrimp' is a seafood restaurant in Barcelona for its lobster stew known as Caldereta de Bogavante which comes with chunks of tender lobster cooked in a flavorsome fish sauce.
Address: Carrer de la Fusina, 3, 08003 Barcelona, Spain
Contact: lagambeta.cat  +34 933 10 22 03
Opening Time: 7:00 pm




7. El Nacional 
On the off chance that the idea of a crisp clam and a glass of something bubbly is your concept of a seafood feast then the Oyster Bar at El Nacional makes certain to be a treat. It is one of the best tasty seafood restaurants in Barcelona Spain. Housed inside a former garage and decorated in Catalan art nouveau style, El Nacional is five cafés under one rooftop, including a meat eatery, tapas bar, seafood restaurant, and the shellfish bar. Get settled on your stool and browse a choice of various shellfish and accompaniments.
Address: Passeig de Gràcia, 24 Bis, 08007 Barcelona, Spain
Contact: elnacionalbcn.com  +34 935 18 50 53
Opening Time: 12:00 pm
Tour: Popular Castles in Spain
8. La Paradeta
This one of the yummiest seafood restaurants in Barcelona Spain offers diners the experience of 'shopping' for their meal at a market stall counter, where they can choose what they want to eat. The person behind the counter explains the various types of fish and seafood on offer, as well as the ways in which they can be cooked: roast, grilled or fried. Order by weight and then wait until your number is called before collecting your cooked meal from the kitchen counter. One of the most original seafood dining experiences to be had in the city.
Address: Carrer del Consell de Cent, 318, 08007 Barcelona, Spain.
Contact: laparadeta.com  +34 930 18 11 63
Opening Time: 1 PM
Related Post: 




So these are the best seafood restaurants in Barcelona Spain, with respect to the best time to go, address and dishes. You can plan according to your comfort. I hope you will love this article as we have tried to provide you as per your concern and kindly share your views in the comment section.
The post Best Seafood Restaurants in Barcelona Spain | Barcelona's Top Seafood Restaurants appeared first on World Tour & Travel Guide, Get Travel Tips, Information, Discover Travel Destination | Adequate Travel.