The festive Christmas markets in Budapest showcase young and old talents of Hungary, who really make their products with love, care, carrying on traditions of long years in glass blowing, knitting, wood carving, candle making, pottery, leather belt making, bag making, shoemaking, etc., traditional Hungarian embroidery and lacework, etc. Don't expect dazzling handicrafts, just nice and pleasant gifts, most of which make nice little presents, unassuming lovely gifts. We outlined some of the Budapest Christmas markets.
Popular Christmas Markets in Budapest
1. Christmas Market at Vörösmarty Square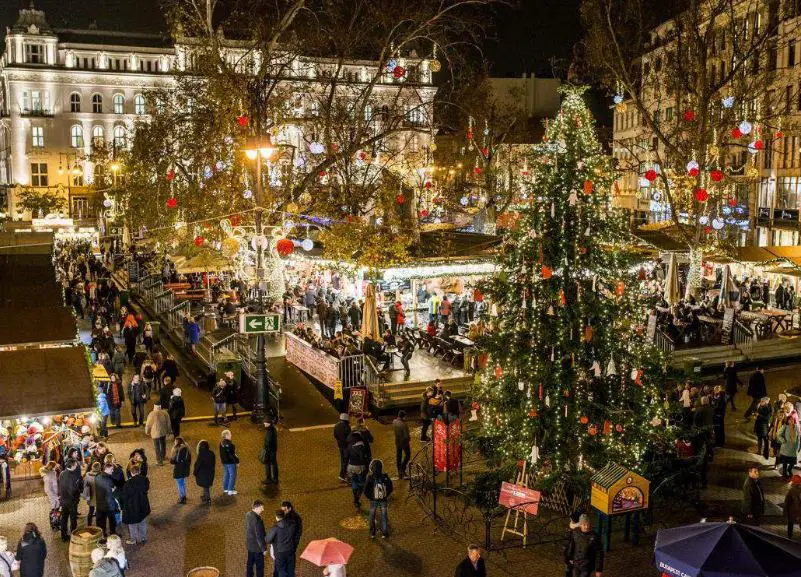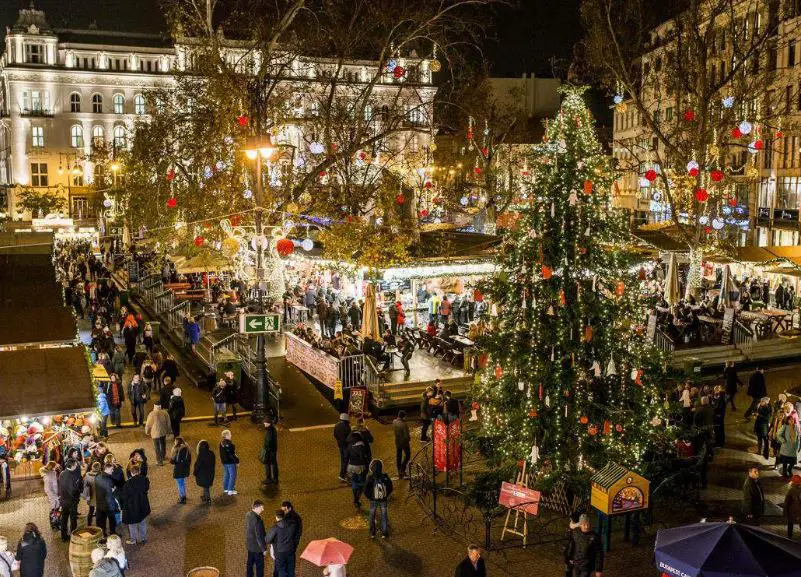 This Christmas market located at Vörösmarty tér, district V. You can take metro  M1 underground (yellow line), M1, M2, M3 metro lines after a couple of minutes walk from both stops Deák tér station or tram 2 Széchenyi tér stop you will reach there. This market starts at 08. November 2019 from up to 01. January 2020. This is the popular Christmas market in Budapest with a central location on a plaza in front of the Gerbeaud Coffee House. You will get 100 stalls are set up around the slender Christmas tree that is decorated with different colors of ornaments each year. The wooden stalls offer mulled wine and food-Vorosmarty sqrConcerts, craft, and playhouse for children, the visit of Santa Claus on 6. You will get delicious food like stuffed cabbage, goulash, grilled meats, and sausages, flatbread (lepény) baked in a clay oven, strudels, Sekler cake, beige, flódni, and other sweets.
Read more: Famous Monuments in Hungary
2. Christmas Market in Fashion Street/Deák Ferenc Street
You can do two markets in one visit because Fashion Street (Deák Ferenc utca) that cuts through Vörösmarty Square also hosts one: with a Christmas tree installation in front of the Hotel Kempinski Corvinus. A golden Xmas tree installation in front of the Kempinski Hotel. This Budapest Christmas Market offers all sorts of food and drinks offer, strudel, Sekler Cake (kürtöskalács) and other pastries, oven-baked flatbread with delicious toppings and of course pottery, ceramics, embroidered folk textiles to tempt you to open your wallet.
3. Christmas Fair at Fővám Square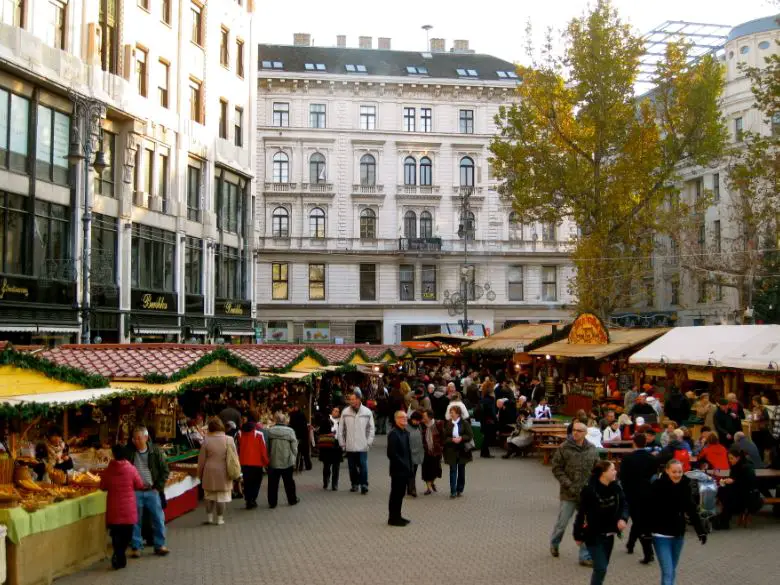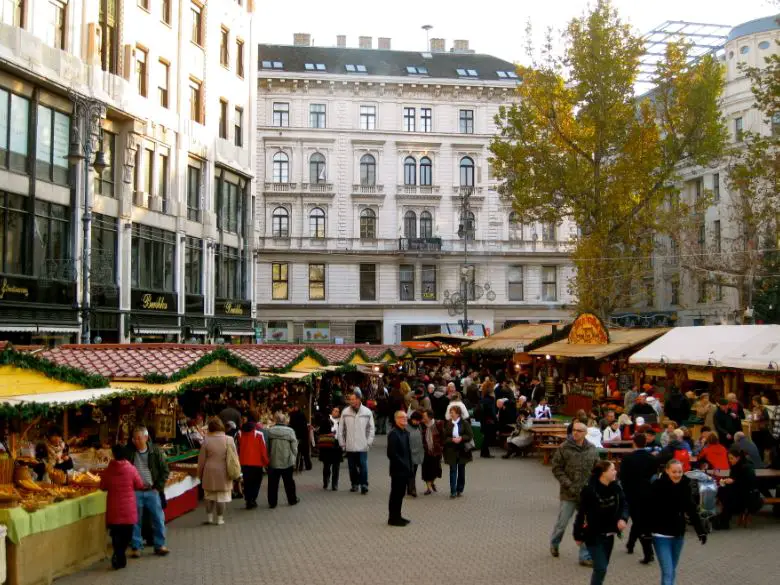 This Budapest Christmas market trip starts at 16. November up to 23. December 2019. This market opens every day from 10.00 am – 20.00 pm.  It was organized for the first time in 2017 the square next to the Central Market Hall hosts a holiday market with food and drinks along with grilled meats, lángos. chimney cake, mulled wine, tea, coffee.  Apart from these various gifts and baubles, and most attractive guitar and other concerts take place on Thursdays and Fridays at 16.00 and 18.00 and on Saturdays at 12.00, 14.00, 16.00 and 18.00 at Erzsébet Square, Christmas Market.
Read more: Hungary Best Eateries
4. Christmas Fair at St. Stephen's Basilica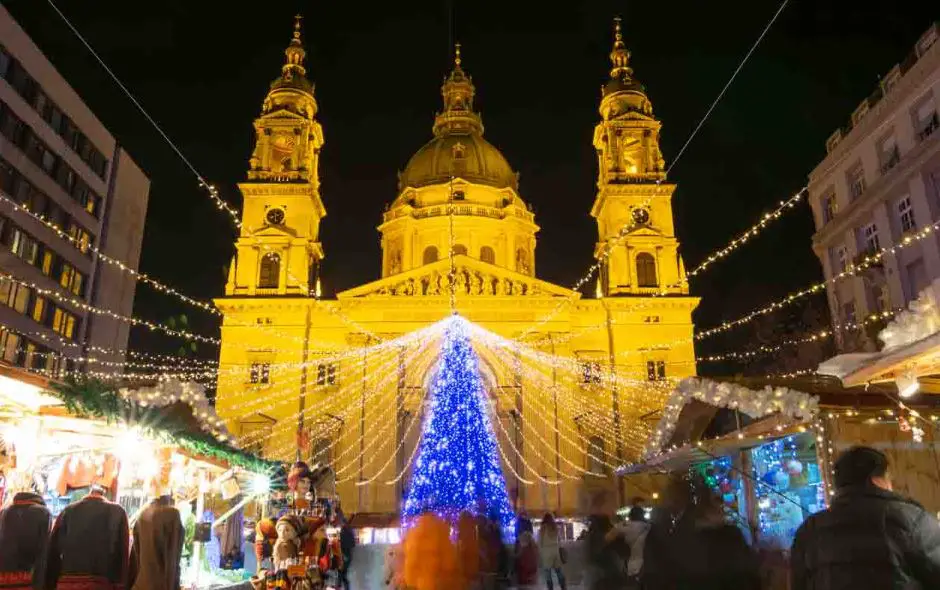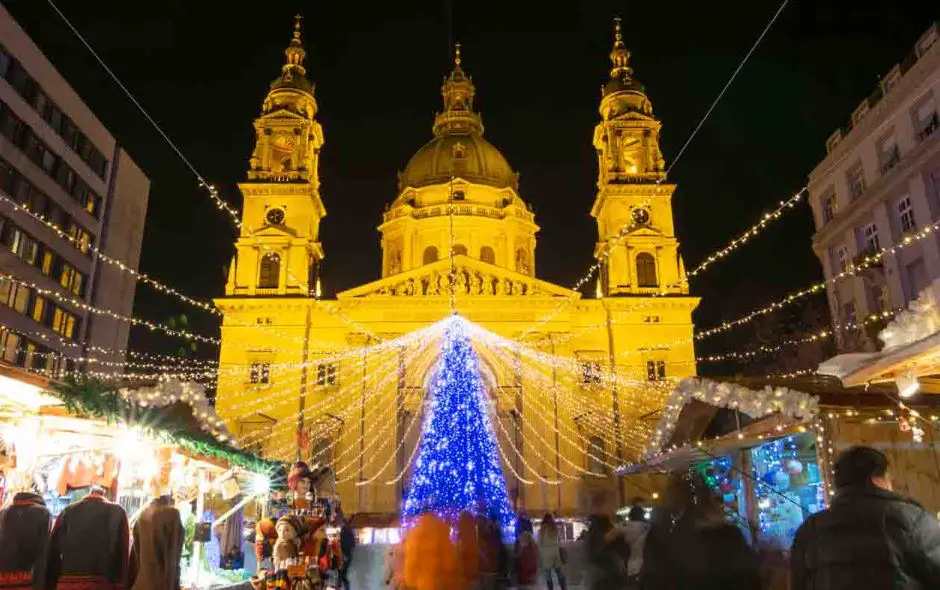 This market starts on 23, November and ends on 01. January 2019. Opening hours are Mon – Thurs: 10:00 – 20:00, Fri – Sun: 10:00 – 22:00, on December 24.: 10:00 – 14:00, Dec 25. and Dec 26: 10.00 – 18.00, December 31: 10:00 – 03:00 and 01. January 2020: 11.00 – 18.00. The spacious Budapest Christmas market Europe takes place in front of the Basilica gives a home to an Advent Festival from 23 November till the beginning of the New Year (01/01/2019). No other venue can be more fitting to a festive Christmas fair than the St. Stephen's Basilica in downtown Budapest.  You will get hare each kind of thing like Handmade chocolate bonbons, leather gloves, design jewelry, strawberry wine, pálinka, Csabai salami and more to see, buy and taste on the market. This year you also can enjoy a spectacular light show on the facade of the Basilica in the evenings every 30 minutes.
5. Christmas Market at the Basilica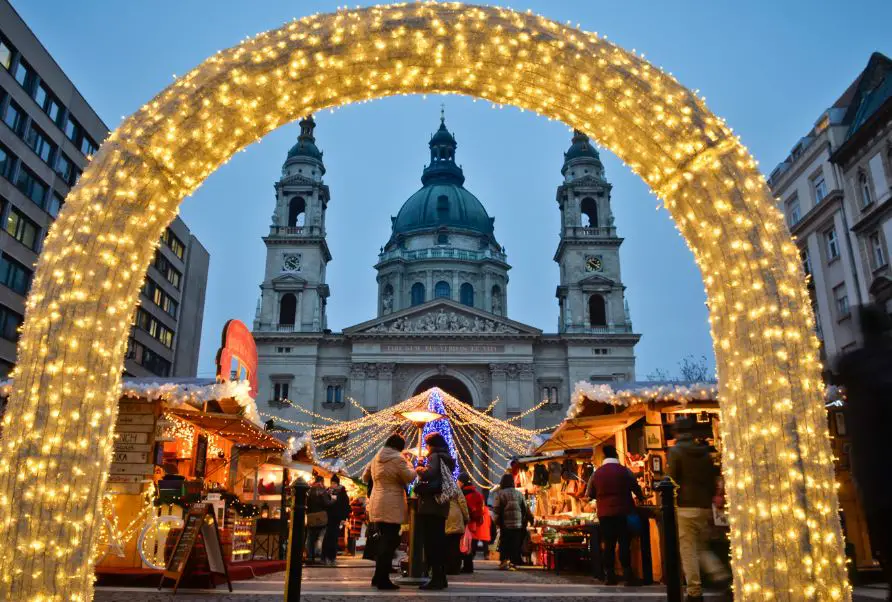 The Opening Ceremony of this best Budapest Christmas market happens on 02. December at 16.00: the first light on the Advent Wreath next to the Christmas tree will be lighted and the occasion is also the official opening of the holiday fair. Light Painting this year in 3D- spectacular light show and animation with festive themes every day from 16.30 till 22.00. Put on 3D glasses available at the market and enjoy the visual show.  Events like Folk Dance – Performance by the Göncöl Folk Ensemble – Hungarian Dances Flash Mob performance in front of the Basilica, Awaiting Santa Claus – 06 December (at 12.00 – 16.00 and 17.00 – 18.00): well-known local people will dress up and play Santa with storytelling and singing. Apart from this go for ice skating at night at the Whale Advent festival steel and glass entertainment and shopping center called Bálna/Whale on the Pest side of the river is an ideal place for a Christmas-themed event.
Read more: Things to do in Hungary
6. Várkert Bazaar (Castle Garden)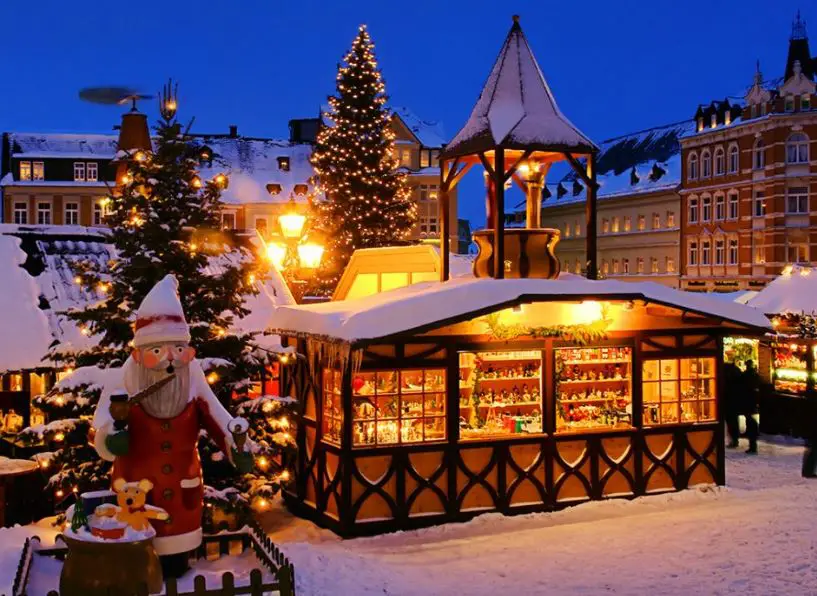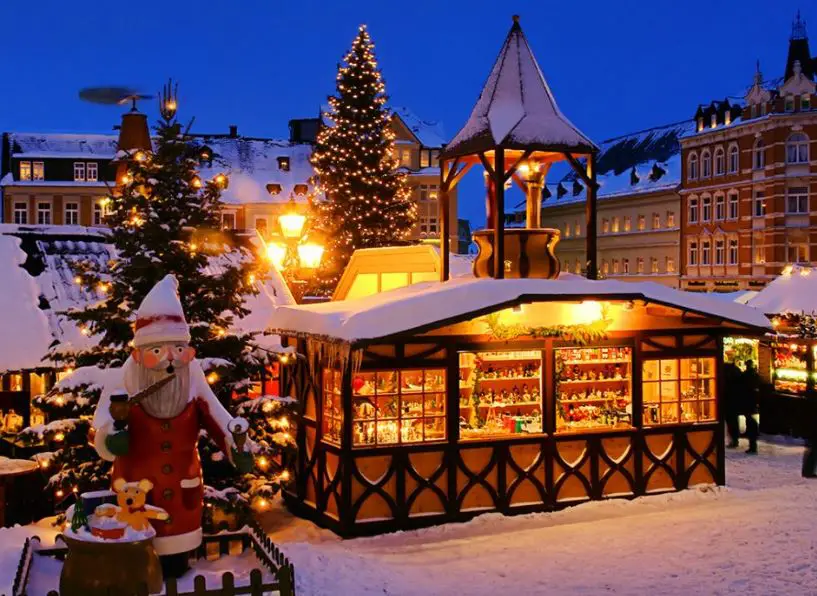 Budapest's best Christmas market takes place every Sunday in December 2019 (01., 08., 15., 22. Dec) at Ybl Miklós tér 2-6., district I. The Castle Garden Bazaar at the Buda side of the Danube will host Advent programs with folk craft fairs, concerts, food trucks, a small ice rink, free children programs take place on each Sunday. A giant wood candle illuminated by purple light in front of the palace in Burkert. This is perhaps the most scenic Christmas fair in the city at the foot of the castle Hill overlooking the Danube and the Pest side. After looking around the craft market you sure will be tempted by the tasty street food offered by the trucks: from local specialties (Kobe Sausages) to international favorites (burgers, piadina, waffles, pancakes) and hot drinks, the choice is ample.
So Hungarian I hope these top Budapest Christmas markets will help you to find the best Christmas festivities. From the traditional market to the contemporary market these Budapest Xmas markets explore all Christmas things like goodies, gifts, food, home decoration items, etc. 
The post Best Christmas Markets in Budapest | Budapest Christmas Markets 2019 appeared first on World Tour & Travel Guide, Get Travel Tips, Information, Discover Travel Destination | Adequate Travel.